I try to have dinnerfor the boys ready by 6 P.M.  Does thathappen every night?  Not in theleast.  I try and make a valiant effortat it each evening.  
It's pretty oftenthat I get home at 5:30 P.M with M and J and there isn't a thingdefrosted.  Way too often.  
Not only is there nothing defrosted, butthere is also no leftovers.  For me,leftovers can be the start to a very good meal so it's always a bummer for mewhen I have to start from scratch with only 30 minutes to make it happen.

Last night was nodifferent.  Luckily we had some freshapples that inspired me to make a sweet and savory dish, carrots with applesand chicken.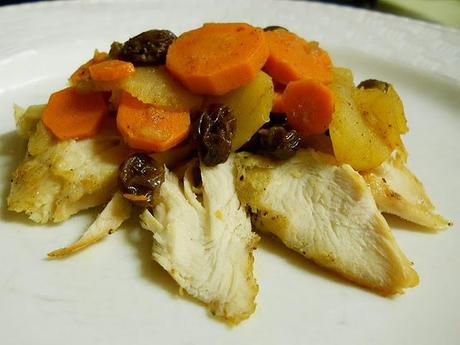 What You'll Need:
2 apples
2 large carrots
2 tsp cinnamon
1 tsp nutmeg
A small handful ofraisins
4-5 chicken tenders
1/2 tbsp olive oil
Prep
Peel and core bothapples.  Slice apples in thinwedges.  Peel and slice the carrots.
Using a steam pot,steam the carrots and apples for 8 minutes. Remove from heat and move to a sauce pan.  Add about 4 ounces of water and cook downuntil the carrots and apples are soft and tender (you may need to add morewater incrementally until the carrots and apples are the rightconsistency.  Add a small handful ofraisins (for extra sweetness) and continue to cook down.  Remove from heat once finished (it took meabout an hour to get the right consistency).
Preheat a separatesauce pan and add olive oil.  Lightlyseason the chicken tenders Salt and pepper the chicken tenders and place in thepan.  Cook chicken until nicely browned onboth sides.
Once chicken inbrowned remove from heat and let cool for about 5 minutes, then slice on anangle and serve with the carrots and apples.
So what's cooking inyour kitchen?  Link up your recipes,reviews, and food related posts.