The 1990s included some very good years and we had a chance to try them all at the Decade of Grange dinner at The Point restaurant at Albert Park Lake last night.
This is the third dinner The Point has staged to showcase a decade of Penfolds' famed Grange wines. Last year we sampled the 80s vintages and the inaugural dinner a couple of years before examined the 70s wines.
Penfolds' senior red wine maker Steve Lienert, who was directly responsible for the 1990s Grange vintages, talked us through this evening of sheer indulgence and associate winemaker Stephanie Dutton was also on hand to share her knowledge.
To whet our appetites – and palates – Penfolds recently released 2009 Yattarna chardonnay was served. This multi-regional wine will continue to age over the next five to 10 years, Lienert said. It was beautifully matched with two clever appetisers. There was a Port Campbell crayfish, foie gras and Ceylon spinach medley, then a Mooloolaba prawn number with Buddha's hand nestled in a little sea urchin reduction.
Time to sit down for our five-course dinner, each dish matched with two consecutive vintages of Grange.  The Point's executive chef Justin Wise was set the task of preparing food to match the wines. This was no easy task as he didn't have bottles of the expensive wine to play with but had to rely on tasting notes.
All the wines served were from predominantly Barossa Valley fruit, with the kick-off 1990 wine probably the most famous. It was voted red wine of the year by the Wine Spectator magazine in 1995. Lienert said both it and the 1991 vintage had 5% Cabernet Sauvignon grapes added. "If 85% or more is Shiraz, you don't have to put it on the label."
He said the 1990 was sweet and opulent, the 91 "a little bit tighter and more fruit driven. Both are drinking well now and for the next 10-15 years."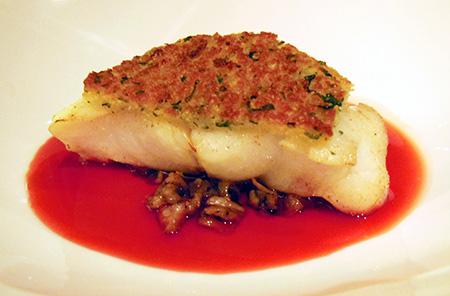 Justin Wise took the risk and served Chatham Island blue cod with a parmesan crust, truffled pork hock and beetroot consommé.  The crust and the pork successfully made the dish hold its own with the red wine.
The '92 and '93 wines were quite different. "There is a step-up in the amount of Cabernet. '92 was a cooler year with nice fruit character. '93 was a wetter growing season." The latter had 14% Cabernet.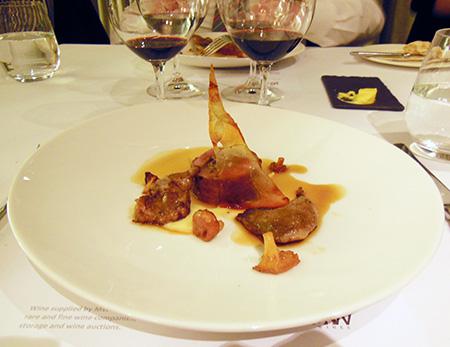 Food match was Yarra Valley quail, salsify, mushrooms and pancetta stuffing.
Along the way we learned where the name Grange came from. It seems Dr Christopher Rawson Penfold's wife Mary's home in England was called The Grange and so the original vineyard's founder gave their cottage the same name.
Lienert said the 1994 vintage was still quite youthful with dark berry fruits and 10% Cabernet. "With time it will be right up there with the best in the '90s."
He described the '95  as still very good, stylistically different with some Shiraz from the Magill vineyard and not as concentrated as the '94 and with around 6% Cabernet.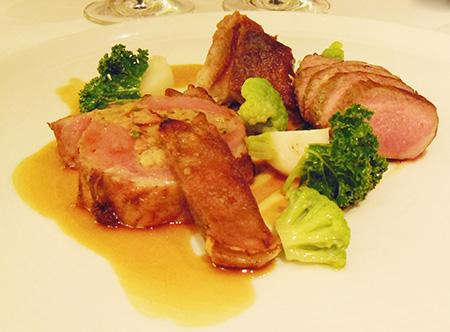 These accompanied Flinders Island pasture-fed lamb with a sweetbread farce and baby turnips and greens.
"Remember the sixes," Lienert told us. The vintage years ending in six have produced very appealing wines, it seems.
The 1996 had rich concentrated dark fruits and was predominantly Barossa with some Magill Shiraz – "a classic Grange." He said it was a good ripening year. The wine was drinking well now "and will last 50 years."
1997 was a bit cooler – "nice fruit character but different in concentration. A bit more on the elegant side."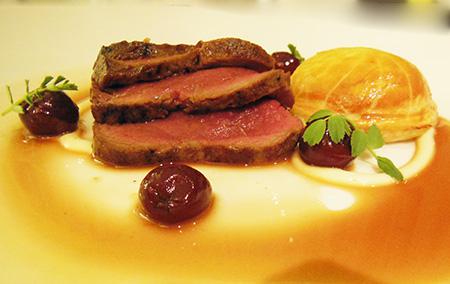 Elegant, too, was the accompanying plate of New Zealand Red Cervena venison with a delicate little leek pithivier and beautiful Griottine cherries.
And so to the last two of the decade. Lienert described the 1998 and 1999 as both sensational and both still very very young. Dark and with good red colour, both were classic Granges.
The year 1998 was the year of a heatwave and the wine was "rich, dark and generous. Very big." He said it still seemed very young and had years of life. The 1999 was a classic Grange but 100% Shiraz.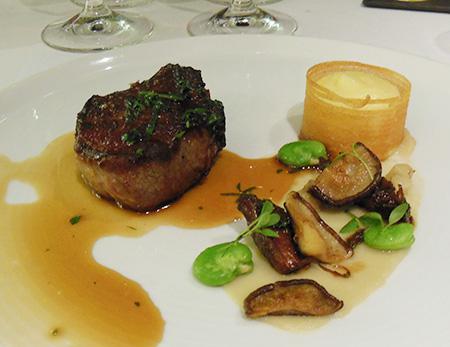 The meat match was Cape Grim pasture-fed 40 days dry-aged porterhouse with little shreds of oxtail, a scattering of broad beans and some artfully presented whipped potato.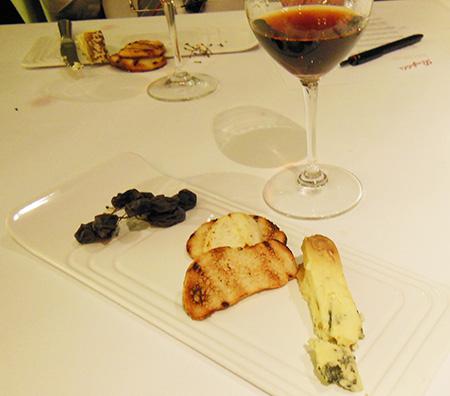 Our amazing meal ended with some Cropwell Bishop Stilton accompanied by Penfolds' Great Grandfather Rare Tawny Port from South Eastern Australia.
Justin Wise said it had been a massive challenge to match 10 iconic wines and from the reception he received, he certainly pulled it off.