Must be all the new sales to those millions of new "transgender" customers. /sarc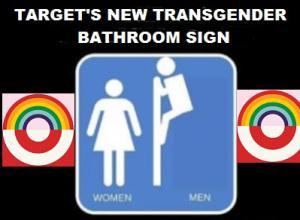 CNN Money reports, May 18, 2016:
Target() stock fell nearly 10% in early trading [today] Wednesday after the retailer reported sales that missed forecasts. Target also warned that its sales and earnings for the second quarter would be lower than what analysts were expecting.

Overall sales were down 5% in the quarter [....]

Nearly 1.25 million people have signed an online pledge to boycott the stores called out by the American Family Association. Target did not cite the boycott for any sales weakness in its earnings release though. [...]

Ivan Feinseth, an analyst with Tigress Financial Partners, said that he was shocked by how poor Target's outlook was ... but added that the expectations may now be so low that Target should have no problem beating them.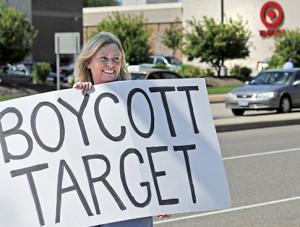 From the (Minneapolis) StarTribune, Ma 18, 2016:
Target Corp.'s [...] executives signaled flat to lower sales in coming months , which triggered a stock sell-off Wednesday.

Target's leaders said they noticed sales starting to slow after Easter in late March. They attributed it in part to weather fluctuations, including a colder and wetter spring in the East Coast, as well as to some hiccups in the revamp of its grocery department with more organic, gluten-free and natural products.

"We don't usually talk about weather, but it's been a very wet and cold start to the year in the Northeast and it's been reflected in our sales," Target chief executive Brian Cornell said.

An effort by a religious group to boycott Target over the transgender bathroom access policy it announced in late April has had no effect, he said.
The boycott has had no effect? Really?
Let's look at Target's stock performance, shall we?
⇓Click image below to enlarge⇓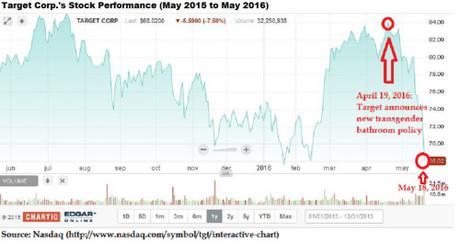 On August 12, 2014, Brian Cornell , 56, took over as Target's Chairman and CEO with a salary of $28.1 million. That same month, Target reversed its policy by embracing same-sex marriage, followed in February 2016 by its sale of "gay pride" t-shirts for children.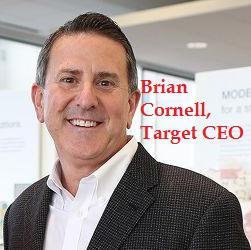 Cornell is doubling down on the transgender bathroom policy, vowing Target will not cave in to boycotters.
See also " A Nation of Sheep: Americans who support transgender bathroom increased 12% in just 6 months ".