I love this little trick to view a stream of pins from very specific Pinterest users. Tap into their Pinterest RSS feed!
Everybody with a Pinterest account has a Pinterest RSS feed.
User account feed: pinterest.com/username/feed.rss
Specific board feed: pinterest.com/username/board/rss
So for example, my Pinterest account feed is: pinterest.com/alizasherman/feed.rss
and the feed for my Living in Alaska feed is: pinterest.com/alizasherman/living-in-alaska/rss
Once you've identified the RSS feed for a particular user or board, you can add those feeds to your RSS Reader of choice.
Here's what it looks like in Google Reader. First you have to subscribe to the feed in your reader: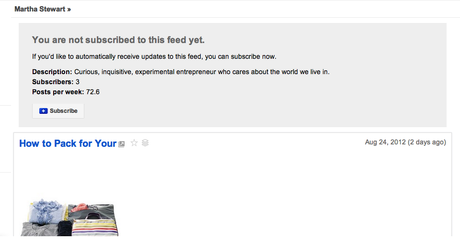 Then you can view the Pinterest feeds you subscribe to as you would a feed of blog posts: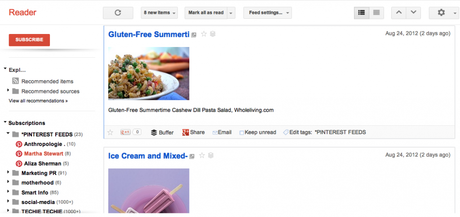 For quick and easy access, I'd recommend then setting up a folder and organizing your Pinterest RSS feed subscriptions in one place. Here's how it looks in Google Reader: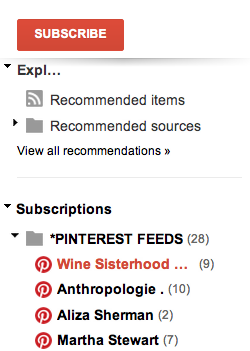 Voila! Now you can more easily monitor what your favorite pinners – or your competitors – are pinning. You can also click on any pin in the feed your viewing and end up back on Pinterest to repin. Or easily share favorite pins on Google Plus.
If you aren't keen on the way Google Reader handles your feed subscriptions, you can import your Google Reader subscriptions into Feedly for a more magazine style view: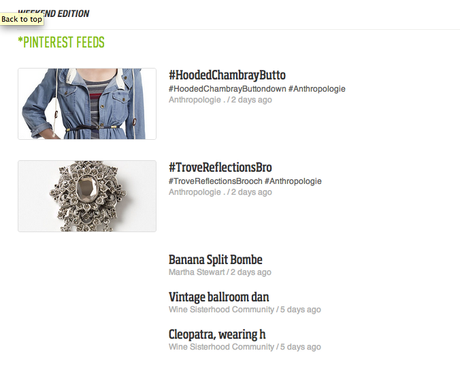 There are a number of other creative and intuitive ways to consume RSS feeds in this day and age. I'll cover those in an upcoming post.
What's your Pinterest RSS feed?