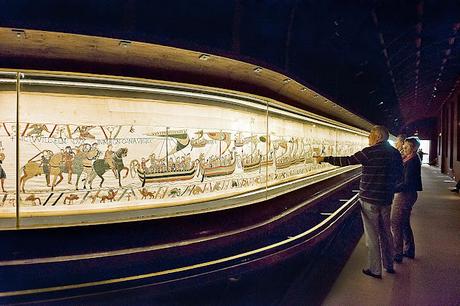 'Just another stitch in life's rich tapestry'
I don't know where the original quote came from but I used to say it a lot. I've heard variations of it on television programmes and read it in books but where it started eludes me. My dad heard me say it and loved it so much that he made it his own and drove me mad with it at least once a day. That was long ago. I used to say it at work back in those old days, 1970s, so I probably picked it up from a colleague. More recently I've heard 'a dropped stitch in life's tapestry' when something has gone pear-shaped or not according to plan. I might try it out. There's usually plenty of scope.
Somewhere in the attic, probably buried beneath other unfinished projects and my children's old school books, is my three-quarters completed tapestry of The Last Supper. No small starter kit for me. It was straight in for the epic masterpiece. The intention was to gift the finished work to the church I belonged to at the time, Raikes Parade Methodist. The church closed in 2003 and I think I'd already 'rested' the tapestry in favour of having a go at cross-stitch. I've had one on the go for years. Not in the attic, well, not yet, anyway. It's in the foot-stool where I keep needlework projects. Untouched for a while but not given up on. I struggle to see what I'm doing but I was given special magnifiers for Christmas which I hope will solve the problem. It might give me the incentive to dig out The Last Supper which was becoming quite a work of art.
A better work of art was my sister's tiger, a large, beautiful tapestry that took her hours to do. I remember helping with the intricate embroidery details on the eyes. It's so long ago that I could still see what I was doing. The finished tapestry was on the landing wall at the top of her stairs and looked stunning. I'll have to ask her about it.
My young, impressionable music head was – and still is – dominated by The Moody Blues, but there was always a little space for other things. My fondness for female singers has always been limited to my daughter and not many others. One of the 'not many' is Carole King and her album which I love as much now as I did in the early '70s, Tapestry. I was spellbound by her soulful, almost mournful voice, and captured by her way with words. 'You've Got A Friend' spoke to me when I was down and troubled, nearly most of the time in those days.
I hope my dad's tapestry continues in Heaven, as I try not to drop too many stitches.
Carole King's lyrics, poetry to me,
Tapestry
My life has been a tapestry
Of rich and royal hue
An everlasting vision
Of the ever-changing view
A wond'rous woven magic
In bits of blue and gold
A tapestry to feel and see
Impossible to hold
Once amid the soft silver
Sadness in the sky
There came a man of fortune
A drifter passing by
He wore a torn and tattered cloth
Around his leathered hide
And a coat of many colors
Yellow, green, on either side
He moved with some uncertainty
As if he didn't know
Just what he was there for
Or where he ought to go
Once he reached for something
Golden hanging from a tree
And his hand came down empty
Soon within my tapestry
Along the rutted road
He sat down on a river rock
And turned into a toad
It seemed that he had fallen
Into someone's wicked spell
And I wept to see him suffer
Though I didn't know him well
As I watched in sorrow
There suddenly appeared
A figure gray and ghostly
Beneath a flowing beard
In times of deepest darkness
I've seen him dressed in black
Now my tapestry's unraveling
He's come to take me back
He's come to take me back
by Carole King
Thanks for reading, Pam x
Email This
BlogThis!
Share to Twitter
Share to Facebook