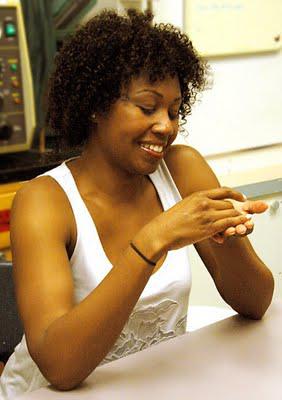 True Blood's Tanya Wright was a very special guest at Pacific Science Center's Tropical Butterfly House last week. Tanya was in Seattle for the world premier of her movie "Butterfly Rising", an entrant in the Langston Hughes African American Film Festival.
A quick search of the word "butterfly" brought up the exhibit, and Tanya immediately called Life Sciences manager Sarah Moore to invite people involved in its operation to the film's premier. In exchange, Tanya was invited on a personal backstage tour of our Tropical Butterfly House complete with a visit to the emerging room where she got to hold a pupa in her hand as she felt the warmth of the life force that is inside a small chrysalis.
The journey of a butterfly, from egg through caterpillar, pupa and on to a winged adult may be an intriguing biological phenomenon to one person, and a jumping off place for artistic inspiration for another.
"Butterfly Rising" is not a "bug" movie, but rather a story that uses the process of metamorphosis as a metaphor for growth and change of the movies' characters. The world premier was yesterday, Sunday May 8 at the Langston Hughes Performing Arts Center.
source: pacscilife.blogspot.com