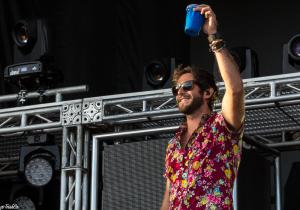 With the sun still shining, the headline crowd rolling in, and a blue solo cup in his hand, Thomas Rhett took advantage of his time on the Boots & Hearts main stage by putting on a show that definitely made him some new fans.
After having seen Thomas play an acoustic show at Toronto's Rock 'n' Horse Saloon a few months ago, we were excited to hear his music with the sound and energy of a full band – and we weren't let down. From the start of the set with South Side, to the Crash And Burn finale, Thomas Rhett Akins, Jr. showed the Canadian crowd why he's a rising star in country music.
Note: We loved the flowered shirt that Thomas wore on Sunday. This is new country. You don't need a cowboy hat to play the game…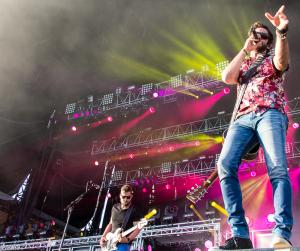 Thomas Rhett's set also included 2 new songs from his upcoming Tangled Up album (available September 25, 2015) that we hadn't heard before, but certainly have made us excited for the release. Be ready for T-Shirt and Die A Happy Man to hit radio, YouTube, and iTunes.
And while this show was a party, and there was singing and dancing (shaking your hips would surely be mandatory if Rhett had his way) – I also got unexpectedly choked up when he played an acoustic version of Beer With Jesus and thousands of people sang along with him.
Check out the set list, more pics and be ready for more coming soon!
Thomas Rhett Boots & Hearts Set List

 South Side

 You Make Me Wanna

 Uptown Funk

 It Goes Like This

 T-Shirt

 Die A Happy Man

 Beer With Jesus

 Something To Do With My Hands

 Parking Lot Party (with an interlude medley of Dust On The Bottle, The Joker, Free Fallin', Angel)

 Get Me Some Of That

 Crash And Burn
Work Hard. Play Harder. Be Awesome!