Tandoori Naan is a traditional and very popular Indian flatbread made in tandoor. I have made this one at home on a gas tandoor. Traditionally you get these long-oval shaped bread in restaurants but I have made them in small and round shape. It is totally

upto

your choice what shape you want to give. 
   To give a little twist to these

naans

you can add garlic on the top when you are baking or cooking. Along with that you can add aniseeds, poppy seeds (khus-khus) or

nigella

seeds (

kalonji

) on the top. It gives good flavor and a nice texture to it and makes it look more like restaurant style.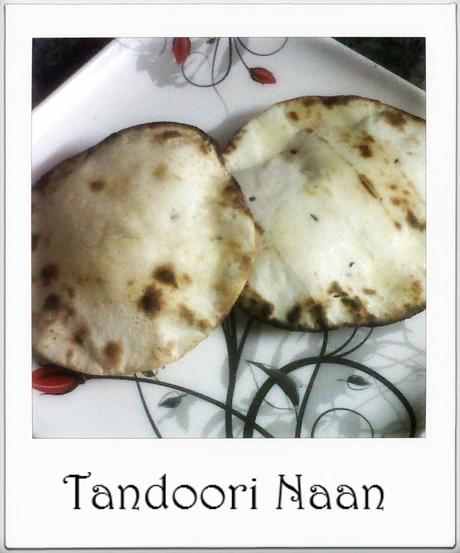 Serves : 4-5 persons
Preparation : 5-10 minutes
Cooking time : 2-3 minutes
Ingredients : 
All purpose flour (Maida) : 1/2 kg
Baking powder : 2 tsp
Salt : 1/4 tsp
Milk : 1/2 cup 
Water : as required
For the topping :
Poppy seeds (Khus-Khus) : 1 tsp
Nigella seeds (Kalonji) : 1 tsp
Butter : 2 tsp
Method :
1. In a deep mixing bowl or thali, take all purpose flour (maida).
2. Add salt and baking powder

to

it.
3. Make a soft dough by adding milk and water little by little at a time.
4. Knead the dough with your hands to give it a smooth touch. 
5. Rest this dough for about 2-3 hours. Keep it under a wet cloth. 
6. When you are about to roll out the

naan

, knead it one more time to give it a smooth finish.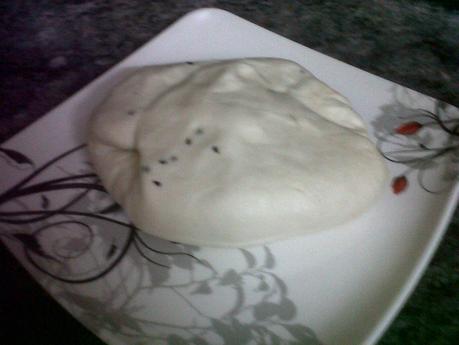 7. Take out a small portion of the dough and roll it into

oval

or round shape. 
8. Sprinkle the topping of your choice. 
9. Bake it in a tandoor or gas tandoor as I did. 
10. Serve hot with butter on top. 
11. You can serve these delicious

naan

with Daal Akhbari or Kasoori Methi Paneer or .Paneer Butter Masala. 
Handy Notes :
# During making the dough you can add yogurt if you want.
# You can also add a little amount of oil while kneading the dough. 
# Instead of sprinkling the topping on the top, you can mix the toppings into the dough itself.