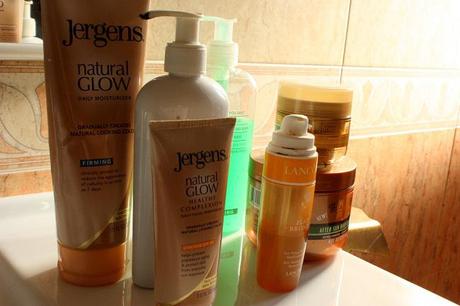 I get very tan in the summer thanks to my Spanish blood but during the winter I am so pale it almost pisses me off… I am a huge anti-taning salons and orange make-up so my only choice is using self tanner. It can also look weird and orange if you don't do it well but over the years I got enough experience. My favorite products are:
Jergens natural glow (face and body): it's very subtle and you have to use it as your daily moisturizer to see a difference but if you change your face cream for this one you'll see the result in about a week.
Lancome Flash Bronzer: on the expensive side, this is only for my face if I have an emergency. If you use it during 2-3 days you'll get a beautiful glowy tan.
SUN Self tanning lotion Ultra dark: as the name says, it's super dark and you get a tan immediately. I use it when I need to look tan the same day and I forgot to apply the other ones before. The product itself looks almost black so it's a bit scary to use… But it works wonders!
SUN exfoliant body gel: before you use any self tanner, you should first exfoliate your body to prepare your skin and to make the tan look smooth and not streaky. It's also very important to exfoliate once your tan starts to fade off, otherwise you'll end up with dark spots.
Hawaiian Tropic bronzing gel: a very silky gel that you can use as a daily moisturizer too but it has shimmer to it, perfect for a night out.
Hawaiian Tropic after sun body butter: this isn't for everyday use, but if you happen to catch a ray of sun or two during the winter don't forget to apply after sun afterwards to make it last longer. I love this one because of the smell of coconut!
These are the ones that I have been using lately but I have heard very good things about Fake Bake and St. Tropez and as soon as I am done with these ones I will sure give them a try.
Do you have any favorites? Do you ever use self tanners?
Follow me on FACEBOOK // TWITTER // BLOGLOVIN
Join the GIVEAWAY