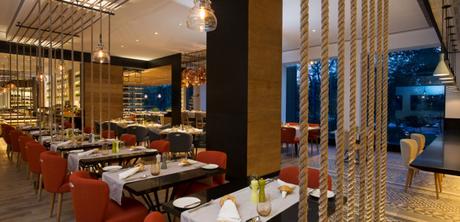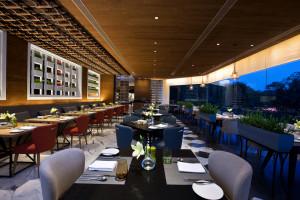 Tamra, with its name derived from the Hindi word for copper, is the new all day dining restaurant of Hotel Shangri- La in New Delhi. Inspiration for the décor is taken from the early ages when copper vessels were used for cooking. Copper elements like hanging pots and pans, tandoor, the leather strapped rolling pin canopy and even the wood work with copper colour all add on to the rustic but elegant feel of the restaurant.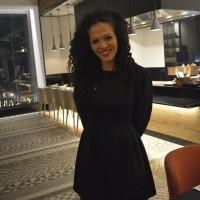 This is a 189 seater restaurant overlooking the gardens and also has a 10 seater private dining room enclosed with glass walls. There are five live interactive kitchen stations - Asian, Indian and Regional, Japanese and Tepanyaki, Dessert Bar with homemade gelatos and Salad Bar with cold cuts, cheeses and breads. Add to this, the tangible genuine warmth of the ever smiling Spanish hostess and the very courteous staff.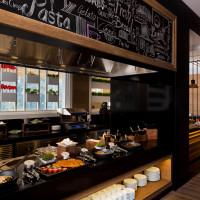 Even though this is clearly a restaurant where one should go for the buffet as it promises to deliver world cuisine on your platter from its vast array of cuisines, we decided to go with both the chef's selection from the a-la-carte menu and the buffet to get the best of both the worlds.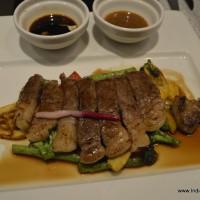 We started with assorted Sushi (cucumber and carrot, pickled egg plant, crab), Sashimi and Salmon Nigri - all had the freshest ingredients and were served with wasabi, pickled ginger and soya sauce. The Wagyu Teriyaki was simply melt in the mouth beef, leaving you yearning for more. The Crystal Veg Dumplings and Chicken Sui Mui were as good as you would get in any Asian restaurant.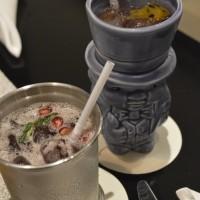 The cocktails did take their time in coming and were served in very unique, attractive glasses. The Danny Wild (a gin based drink with passion fruit) and Roots of Bourbon (Bourbon, pomegranate juice, sugar syrup) could be both avoided. Instead go for the dark German beer and the good old Cosmopolitan cocktail.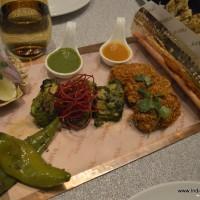 Thai Chicken Croquetta (not to be missed) is a welcome explosion of Thai flavours - kafir lime, lemon grass and basil with a crunchy coating served with peanut sauce. Aambedi Fish Tikka was well made but lacked the kick from the raw mango which it was marinated in and did nothing to live up to its name. Tilapia on a bed of caviar cream and truffle scented mash again did nothing to ignite the taste buds. Go for the Paneer Ka Lifafa which was malai paneer wrapped in a roomali with sirka pyaaz and chutney.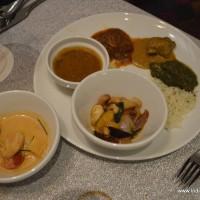 Coming to the buffet, do not miss the outstanding Achari Fish, Hara Chicken and Dal Panchmel from the Indian station. Veg Cashew & Kung Pao Chicken which had a really robust flavor and Prawn Fried Rice with juicy fresh prawns from the Asian station, are recommended. What needs improvement though is Prawn Thai Red Curry.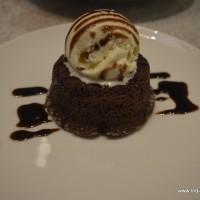 By the time we made it to the desserts section, needless to say we were more than full. Here awaits an absolute pleasure for your taste buds - fresh, eggless vanilla ice cream. This would be one of the creamiest, yummiest, vanilla ice creams one could taste. All the ice creams are made in house and a must try. Do save place for the other desserts too as the chocolate fondant and choco lava cake cannot be avoided.
Ratings (Out of 5)
Meal for Two: Rs. 3000 (Without alcohol) | Credit Cards: Yes | Alcohol: Yes | Timings: See Below
Breakfast (1100++) 7 am to 10.30 am , Lunch ( Adults @ 1950++ and Kids @ 1100++ )12.30 pm to 3 pm and Dinner ([email protected] 2100++ and Kids @ 1100++ )7 pm to 11.30 pm
Sunday Brunch: 12pm to 3.30 pm. Priced at : Adults @ 2750 ++ (includes Cocktails, Beer and Mocktails) and @ 3500 ++ (includes Moet Chandon Champagne)/ Kids @ 1500 ++
Address: Shangri-La's -Eros Hotel, 19, Ashoka Road, Connaught Place, New Delhi | Telephone:011 +91 11 41191010 / 1
This review was done on an invitation from the restaurant. Due judgement and care has been applied by the author to remain objective and unbiased in the review, but readers need to consider this review keeping this fact in mind.