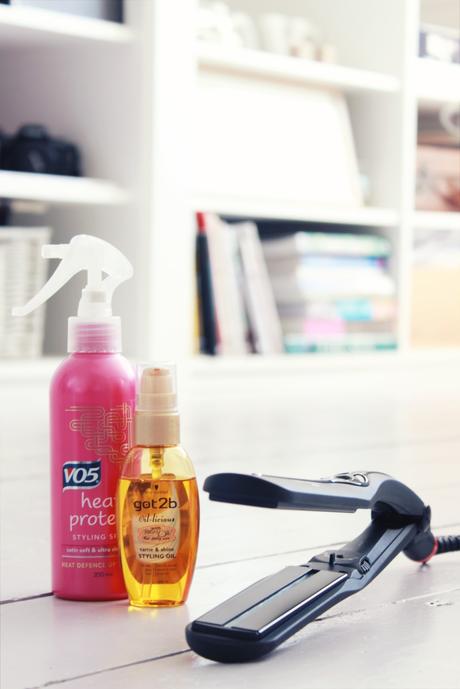 Long time no see, eh? I wanted to shortly preface this post by briefly explaining where I have been. A little over two weeks ago now I flew to Uganda with my school to volunteer on a farm, helping to train those who can then use the skills to improve their chances in life. Along the way, I also worked in a school and visited sponsored children, giving them the donations that we had with us. I'l be writing a more in depth post very soon with more details on what we got up to, but safe to say it was an unforgettable and life-changing experience that affected me deeply. The farm that we worked with is called Kira Farm and run by Amigos - to read more about them you can visit their website or Facebook page, and please do think about donating, it really does make the world of difference no matter how small the amount. 
With all that said, onto the superficial topic of beauty again...
When it comes to hair, I'm always on the look out for products that can tame my hair. I don't have a lot of it, nor is it particularly frizzy, but somehow it still manages to be flyaway central most days, especially in the summer heat that we have been experiencing. Together with keeping at least a bit of volume in it's a fine balancing act to get right, but I seem to have found a combination of products recently that work pretty well at keeping me happy. 
After towel drying, when my hair is still damp I like to spritz a bit of my V05 Heat Protectant through it to prep, prime and protect from what is to come. This smells lovely, the best comparison would be to something like a Hollister spray, (though no-where near as strong) and whilst I'm not sure if it actually protects my hair (are these things a gimmick?) it definitely makes me feel a lot safer using heat. If I'm going to need to leave the house soon after I'll roughly blow-dry until around 90% dry, if not, I'll leave it to naturally do it's thang. 
When my hair is just about dry, I'll get to work with the tools. Unpictured, but something that I use quite often is my Babyliss Big Hair. Used properly, it gives a smooth and sleek salon-blowdry like finish with enough root at the lifts to stop the whole thing from looking really flat. I'll then finish off the whole thing by straightening the curls round my face and ends where they need doing. I've recently been using the Vidal Sassoon Infra Radiance Straightener which use Infra Radiance Technology – for faster, kinder, radiant results. The large plates make it so quick and simple to run over large bits of hair very quickly and the even heat distribution means there aren't any hot spots the hair's moisture is retained. 
Finally, to ensure a smooth, sleek finish I use the Got2B Oilicious Argan Oil and just run a penny sized amount through the lengths of my hair. And voilà, smooth yet volumised hair. Of course, you could just opt for the messy rolled out of bed look that I do most days and save yourself the effort, but when I have somewhere nice to be this is the routine that I tend towards.
How do you like to style your hair?