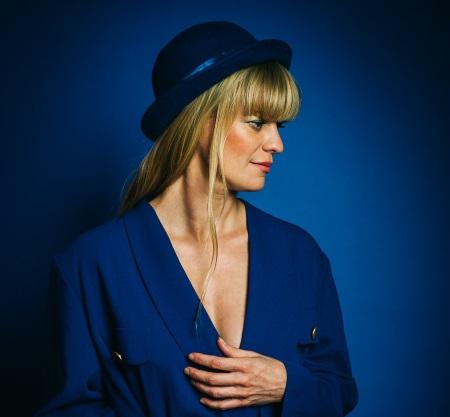 Barqoue pop made a comeback in The Netherlands when Jacco Gardner released his debut album Cabinet of Curiosities in 2013. Singer Tamara Woestenburg's 2010 EP was labeled as a jazz record when it came out,but in hindsight all the elements for her next move were already in place. Her full-length The Colony, produced by Kramer (Low, Sufjan Stevens), finds her exploring kaleidoscopic psychedelic pop in Pink-Eyed Soul, with double-tracked vocals and old school organ, Laurel Canyon folk in Take Me, triphop while riding on the NYC Subway and taking a swipe at the end of the American Dream in Declaration Of Dependence - it's doubtful that the Donald will give a fuck about a Dutch artist singing a protest song, but hey, at least she tried.
The Talking Head's cover Heaven ("a place where nothing ever happens") could well be taken as another warning sign. Woestenburg's music takes a bow at her predecessors, but she is all about here and now. She cares and like a troubadour of old she uses her music to tell tales that might seem old, but whose underlying themes honor the adage that history might repeat itself.
She wraps things up with Top Of The World, in which she is able to look behind the horizon, allowing to paint a picture where things might get better in the long run. Fingers crossed that she is right about that.

The Colony is a self-released EP. Buy it (pay-what-you-want) from his website.
Tracks:
Heartache In The Making
Pink-Eyed Soul
Take Me
To Say Farewell To A Stranger
Nocturne
Declaration Of Dependence
The Devil And The Roundabout
NYC Subway
Heaven
Top Of The World
Live dates:
02/11 Rotterdam @ Pica Pica Winterparade, SHPPR
02/16 Amsterdam @ Amsterdam FM bibliotheek
02/19 Amsterdam @ Concerto (instore)
03/26 Zaandam @ Podium De Flux
04/01 Breda @ Mexx (support Bettie Serveert)