At first glance, a takoyaki pan and aebleskiver pan seem to look exactly alike. They both have holes where you can pour ingredients and gently simmer over a stove until the balls take shape. So what's the difference, and can they be used interchangeably?
Takoyaki pans and aebleskiver pans are made of similar material (typically cast iron or heavy-duty aluminum). However, because of the kind of food they were traditionally used to prepare, the size of the holes is different—and so does the kind of heating you will need.
Traditional recipes base the consistency of the batter and cooking time on the size of a traditional pan, so if you decide to use a different kind in your cooking, you may need to tweak the recipe to get the results you expect.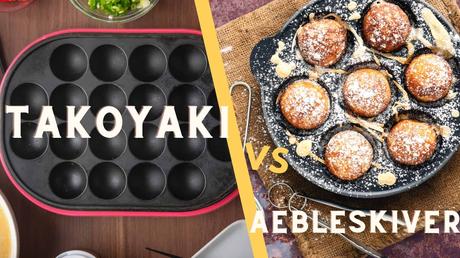 Let's take a look at the top choices real quick, then I'll get into the differences a bit more:
Pan Images
Best Takoyaki pan: Iwatani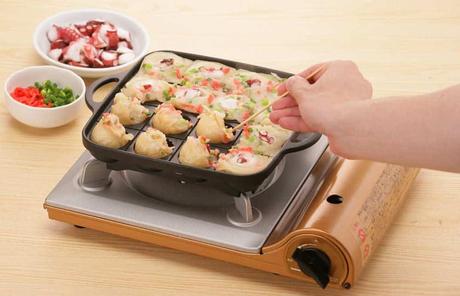 Best cheap takoyaki pan: Hinomaru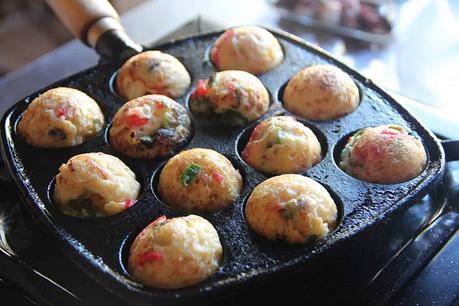 (view more images)
Best non-stick Aebleskiver pan: Norpro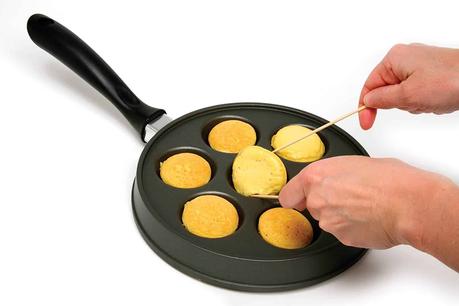 (view more images)
Best cast iron Aebleskiver pan: Upstreet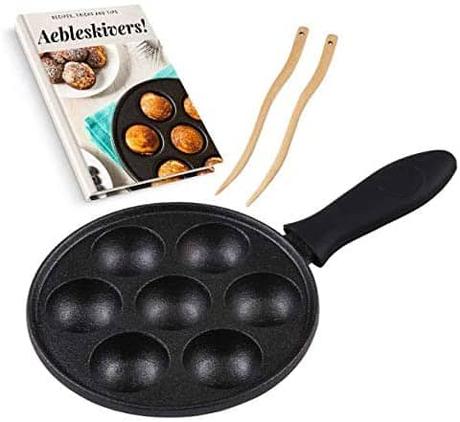 (view more images)
Takoyaki pans
Origin
Takoyaki is one of Japan's most popular comfort foods. It originated in Osaka, where it was often served as a side dish for alcohol. Today, Takoyaki stalls can be found everywhere, and you can even buy them in convenience stores.
And since it's such a huge part of Japanese cuisine, many Japanese households will have a Takoyaki pan and their own personal twists to the traditional recipe. The "original" Takoyaki is traditionally made with boiled octopus mixed into a dashi-flavored batter. But many people replace octopus with other seafood, or kid-friendly ingredients like tuna, ham, cheese or sausage.
How to Pick a Takoyaki Pan
The only requirement for Takoyaki (aside from the signature sauce) is that the balls have to be small and bite-sized. You should be able to lift it with a toothpick or a chopstick. That's why Takoyaki pans tend to have several small circles (from 12 to 20, depending on the size of the pan). They also tend to be designed for fast but even cooking. Since Takoyaki fillings are usually pre-cooked, you just need to cook and brown the light dough.
We Recommend:
Best Takoyaki pan: Iwatani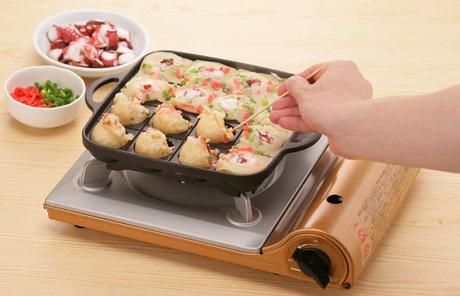 (view more images)
 This bestselling Takoyaki pan has 4.6/5 Amazon rating and nearly 2,000 Amazon reviews. It is non-stick and made of a durable aluminum alloy. It's easy to clean, can be used on both a gas and electric stove, and it heats up easily—your takoyakis will be ready in no time!
Check prices and availability here
Best cheap takoyaki pan: Hinomaru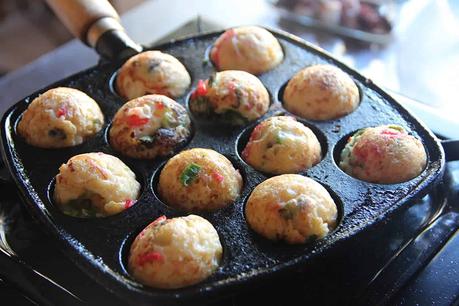 (view more images)
This is one of the most affordable but durable Takoyaki pans you can find. It is made of cast iron, which ensures even distribution of heat. The wooden handle stays cool, so you can comfortably and safely hold it while you cook.
Check the latest prices here
Also check out these takoyaki makers and machines if you want to make some more balls
Aebleskiver pans
Origin
Aebleskivers are traditional Danish pastries. Sometimes, they may contain applesauce or apple slices inside their pockets; or they are served plain, and dipped into jam, maple syrup, and butter. The pastries are usually about 3 inches in diameter, and they puff up considerably while they're cooked.
These sweet treats are often made at home or sold at street stalls or fairs. They're especially popular during Christmas and Easter, and served with glogg (a mulled wine), coffee or tea.
According to folklore, Aebleskivers were invented by a group of Vikings who wanted to cook pancakes on their ship after winning a particular tough battle. But since they didn't have any cooking pans on board, they improvised and poured the ingredients into their helmets. That led to the traditional spherical shape—and the general belief that Aebleskivers are "celebratory" food.
How to Pick a Aebleskiver Pan
The best Aebleskivers Pans have to be able to hold heat really well, or you'll end up with a half-cooked pastry that's burnt on the outside and still raw and doughy on the inside. The preferred material is cast-iron, which takes longer to heat up but gives you even heat and that beautiful golden crust. You can also find traditional copper plated pans, but these are usually decorative and difficult to use.
We Recommend:
Best non-stick Aebleskiver pan: Norpro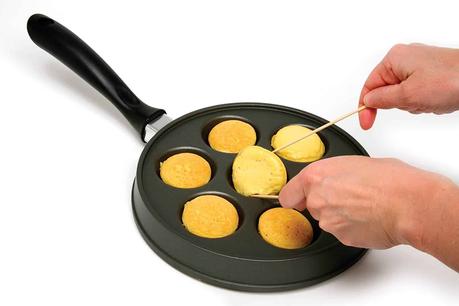 (view more images)
With 4.6/5 star rating from over 1,500 users, this pan is clearly a crowd favorite. It is made of cast-iron with a non-stick surface, and the handle is ergonomic and fits well in your hand.  Works on gas and even flat-top glass stoves.
Check it out here on Amazon
Best cast iron Aebleskiver pan: Upstreet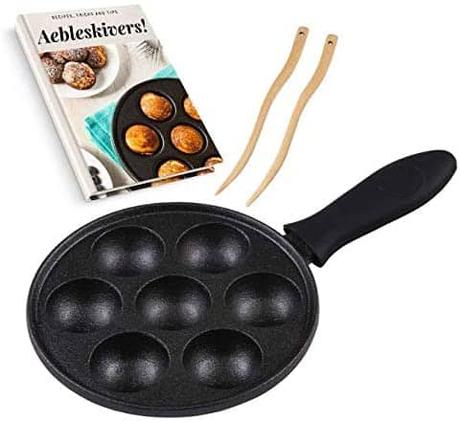 (view more images)
The cast-iron surface resists scratching and is a breeze to clean! The handle is heat-resistant so you won't burn yourself while cooking. It also comes with a booklet with recipes and tips.
Check the latest prices here
Conclusion
So what are you in the mood to make today? Savory Takoyaki, or sweet Aebleskivers? With these pans you can make these treats and satisfy your cravings any time.
Also read: this is how you make a delicious takoyaki octopus ball