Takoyaki is a traditional Japanese street food snack that is typically made with octopus. However, there are many variations on Takoyaki including those without octopus.
These crispy balls are sure to delight all of your friends and family during your next dinner party.
Keep reading for traditional takoyaki as well as takoyaki variations.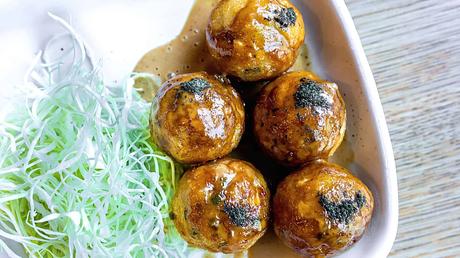 Traditional Takoyaki
Ingredients
1 egg
1 cup dashi stock
3/4 cup plain flour
Vegetable oil
4oz octopus, cooked and diced
2 spring onions
2 tbsp pickled ginger, minced
Takoyaki sauce, to serve
Japanese mayonnaise, to serve
1/4 cup dried bonito flakes, to serve
Method
Whisk the egg in a large mixing bowl. Add the flour and whisk until combined. Then, slowly add the broth until smooth.
Coat the takoyaki pan with vegetable oil using a brush, ensuring all surfaces are covered.
Heat the takoyaki pan over medium heat until it reaches 400 degrees Fahrenheit.
Use a spoon or ladle to add batter into each hole until they are almost full. Add the octopus pieces, spring onion, and ginger into each hole.
Allow it to cook for four minutes until the edges start to brown. Then, use a skewer to break the batter in between each hole and rotate each ball by 90 degrees.
Allow the uncooked batter to flow out onto the pan and then push the batter back into the holes so that it forms the other side of the ball.
Continue to rotate until both sides are cooked and allow to cook for 4 more minutes until each ball has an even brown color.
Remove the balls from the pan and drizzle with takoyaki sauce and Japanese mayonnaise and sprinkle with bonito flakes.
Read more on all of the steps in our post on traditional takoyaki recipes here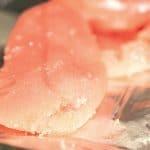 Print
Takoyaki without octopus recipe: Mentaiko Takoyaki
If you don't like the idea of eating octopus in a ball but don't mind fish, the mentaiko or salted pollock roe is also a very good option.
Course
Snack
Cuisine
Japanese
Keyword
mentaiko, pollock, Takoyaki
Prep Time
10
minutes
Cook Time
15
minutes
Total Time
25
minutes
Servings
4
people
Author
Joost Nusselder
Cost
$5
Ingredients
2

oz

takoyaki batter 

6

oz

water

½

egg

1

oz

mentaiko (salted pollock roe)

Takoyaki sauce, to serve

Bonito flakes, to serve

Sliced spring onion, to serve

Japanese mayonnaise, to serve
Instructions
Add the takoyaki batter mix, water, and egg to a large mixing bowl and whisk until combined. 

Pre-heat the takoyaki pan over a medium heat and brush with vegetable oil to ensure all the holes and surfaces are generously coated. 

When the pan starts to smoke, carefully pour the batter into each hole. Add the mentaiko and pour over more batter until it slightly overflows the holes. 

Allow to cook for four minutes or until the edges turn slightly brown. Then use a skewer or a chopstick to break the batter around the edges and allow any uncooked batter to flow out. Push the extra batter back into the holes to form the ball and turn each ball 90 degrees. Allow it to cook for a further 4 minutes until the ball is evenly brown in color. 

Remove the mentaiko takoyaki from the pan and place them on a platter. Sprinkle with bonito flakes and sliced spring onion and serve with Japanese mayonnaise and takoyaki sauce. 

Serve immediately.
Chicken takoyaki
We've written about a delicious chicken takoyaki variation before, you can check that out over here.
Salmon onigiri takoyaki
Ingredients
1 1/2 cups Nishiki (Japanese rice)
1 tsp sea salt
3 oz hot smoked salmon
Vegetable oil
2 sheets nori paper, sliced into 1/2 inch pieces
Ponzu sauce, to serve
Method
Put the rice in a saucepan and cover with water, stir the grains with your hands, and drain the water. Repeat this process until the water is clear. Drain as much as the water off as you can. Then, add 1 1/2 cups water to the pan and bring to a simmer over medium heat. Cover, reduce the heat, and cook for fifteen minutes. Then, turn off the heat and allow the rice to sit, covered for another ten minutes.
When the rice has cooled, fill a small bowl with water. Wet your hands and place some rice into your palm. Use your thumb to flatten the rice and place some salmon flakes into the center. Cover the salmon with the rice to make a ball shape of the same size as the holes of the takoyaki pan. Continue to make rice balls to fill your pan.
Cover the holes and surface of the takoyaki pan with oil and place over medium heat. Put the rice balls into the holes and allow to cook for four minutes, until it starts to lightly brown.
Use a chopstick or skewer to turn the balls over and cook the other side for another four minutes. Remove the balls from the pan and place them on a plate.
Wrap the balls with a strip of nori, wetting the end to allow it to stick to itself. Serve the rice balls immediately or place them in the refrigerator to be eaten within one to two days.
Also read: this is how you make Japanese onigiri rice balls