I was born in London, but my grandparents lived in Aberdeen so in the early 50's train travel was the way to get back and forth. I do recall snapshots of the journey. The moquette ( spelling ?) on the seats of The Flying Scotsman used to chafe the backs of my legs..because , of course , one wore ones best clothes to travel in! Reaching Edinburgh I guess we changed trains and now I recall crossing the Forth Bridge. A penny was thrown from the window for luck .. I wonder if it reached the sea below or if it was pocketed by the maintenance engineer ?
Once we moved north rail travel ceased until I was in my late teens when I traveled to Surrey to meet a boyfriend ( a holiday romance ...destined to failure..but lovely while it lasted ). Then a college trip to London when the postal strike was on, so I couldn't let relatives know I was coming and just took the tube and turned up on their doorstep. Later when I lived in Kingussie I regularly traveled to Aviemore on the train as there was no bus service and went ice skating at the rink there. I remember that was 50p return , but there was never anyone to check my ticket when I alighted late at night from the sleeper bound for Kings Cross. When I went for a job interview in Oxfordshire I traveled there and back on this sleeper.
Another long break from train travel ensued until I surprised my husband with a trip on the Jacobite Steam train to Mallaig as an anniversary present. This was many years before it starred in the Harry Potter films.
The past few years I have rediscovered train travel and purchasing a senior rail card has enabled me to travel easily to Keith in Scotland to visit friends. Where the careful selection of tickets has meant cheap travel ( well cheaper than driving a vehicle there alone ). Also easing the journey to Manchester airport for journeys abroad. Visiting exhibitions, galleries, etc in towns linked to Preston by rail have been interesting and educational.
The last rain ride I took  in this country was in April this year. We caught the train at Arnside, got off at Ravenglass. There we took the narrow gauge railway known as La-al Ratty and enjoyed an excursion into Eskdale.
Of course train travel is the norm when I go abroad. Swiss rail travel can hardly be bettered . They run to strict timetables..or if held up they apologize really profusely!
At present I haven't purchased a replacement rail card as the trains are not running from Blackpool so it's worthwhile waiting until the line reopens.
Yes, sometimes it's good to " let the train take the strain ".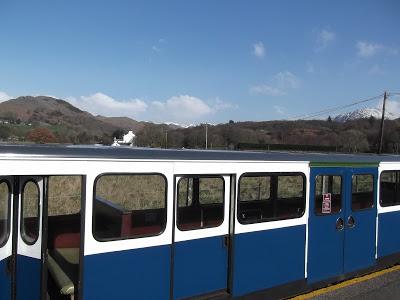 My piece today is one of a few that I've written about train travel. This one written in October 2016 on my way to Buckie.
Fast Train
Seen briefly from a fast train -
A horse and foal, a wood pigeon, a dog in the stream, A glimpse and never to be seen again. A seal on the shore, a tree in Autumn splendour, Children playing in a pond, waving as we pass, Sunshine on the allotments, cat preening on the wall. A quick sight and gone. A heron striding on the bank, geese overhead - southward bound. Me, going north on a fast train. Sunset at Inverurie - gloaming slashed with pink Behind Bennachie and Mither Tap. I'm almost there on a slower train.
Thanks for reading, Kath
Email This
BlogThis!
Share to Twitter
Share to Facebook
Reactions: