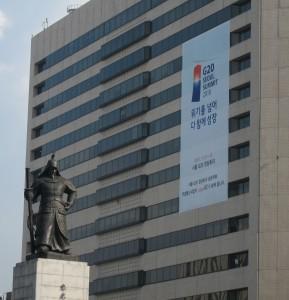 Korea's green growth agenda, the focus of a recent post, marked a significant shift for an advanced economy once focused on growth at all costs to a new paradigm of sustainable development, improving the environment, and green technologies.  Korea's aspirations for its green growth vision were not limited to just within its own borders, however.  While drawing significant international attention to its domestic policies, Korea has also utilized its increasingly prominent global role to advocate green growth.
Korea has worked to accomplish this through several approaches.  It has played a key role in getting green growth front and center on the agenda of major international organizations and conferences.  The Organization for Economic Co-operation and Development (OECD) approved at the ministerial level a Declaration on Green Growth in June 2009.  As host of the G-20 Seoul Summit in November 2010, Korea secured the inclusion of green growth in the summit agenda, and the Seoul Summit Declaration agreed to by G-20 leaders included commitments to support country-led green growth efforts.
Additionally, Korea has launched new international initiatives with the goal of promoting green growth and sustainable development practices.  In 2008 Korea established the East Asia Climate Partnership to support developing economies in building capacity to mitigate climate change while pursuing development.  Korea—the first official development assistance (ODA) recipient country to itself become a donor country—committed to provide $200 million in ODA between 2008 and 2012 to support these efforts.
The Global Green Growth Institute (GGGI) was established by the Korean Government in 2010 with the goal of creating an international venue for developing and diffusing policy innovations and best practices to advance environmentally sustainable solutions to economic development.  One of GGGI's signature activities is to support partner countries plan and implement green growth development strategies.  First initiating these programs in Ethiopia, Brazil and Indonesia in 2010, GGGI launched efforts in Kazakhstan, Cambodia, and the United Arab Emirates in 2011, followed by nine other countries including China and India in 2012.  Ratified as an international organization in October 2012, GGGI includes 18 founding member countries and is headquartered in Seoul.
Korea has also made a concerted push to attract leading international organizations in green growth research, development, and cooperation.  Korea's city of Incheon was selected in 2012 as the host city for the new United Nations Green Climate Fund, which will be headquartered in Incheon's Songdo International Business District, one of Asia's largest green city developments.  Earlier this year, Seoul became the new host city for the secretariat of CITYNET (The Regional Network of Local Authorities for the Management of Human Settlements), an international network of more than 100 cities and local governments from 20 countries in the Asia-Pacific region that cooperate to facilitate solutions and share best practices for urban sustainability, with particular focus on climate change, infrastructure, disaster mitigation and development.
With Korea's new government focused heavily on addressing domestic economic and social imbalances that emerged through its rapid development, there are some questions as to how actively Korea will continue to take the lead in advancing the global green growth agenda.  Maybe the more important task, and challenge, for Korea in the near term is to consolidate its accomplishments and build the sustainability and resilience of its domestic policies and international initiatives.  As the host and sponsor of prominent new international green growth organizations, Korea has incentive and responsibility to support their goals while demonstrating its own commitment to putting those goals into practice.  While not the only country advancing green growth principles, Korea's unique role as a bridge between developed and emerging economies has made its leadership critical for bridging the often deep divides between the two on environmental and climate change issues.  This makes its success that much more important—and it is a challenge Korea is up to.
Image by Author