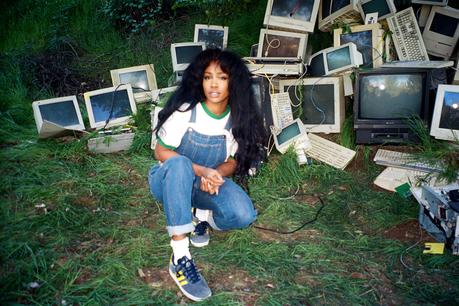 when i first heard sza's ctrl, i was 20, a serial monogamist and head over heels for my first and seemingly only college boyfriend. i gorged myself on romantic comedies and cried on valentine's day annually, much like i do now, but before i did so without a large understanding of why i felt so alone even though i was in a committed relationship. i thought that would love save me? why isn't love saving me? isn't that what it's supposed to do? i believed that if someone loved me, there couldn't be anything possibly wrong with me, right?
wrong.
in its stripped down and raw form, ctrl is an album that touches on the falsehoods that love breeds. on a surface level, society teaches us that:
1. that if we love someone hard enough, they will love us back
2. we should seek out love from those who give us attention
3. love will save us from ourselves

again, all of this is wrong, but they're ideas that are constantly reinforced by the things around us: movies, music, our friends and our families. and sza acknowledges this herself in the likes of songs like "drew barrymore", which acts as a love letter to the kinds of people like me who take comfort in these falsehoods because its easier than being alone.

"i get so lonely, i forget what i'm worth
we get so lonely, we pretend that this works 
i'm so ashamed of myself think i need therapy"
these are some of the most powerful lines of the song simply because, again, there is something powerful in acknowledging when your wrong. so many artists try to feed us sugar coated tunes that absolve themselves from the uncomfortability of their own short-comings, but sza leans into them and, again, the falsehoods that breed them. however, ctrl also demonstrates is that not only is this a process, but that it's a messy, sexual and daunting process.
when ctrl first dropped, a lot of people wrote it off as the musings of a bitter side-chick. namely, when you look at songs like "the weekend", it can be hard not to think that. just about everyone knew the lines "you that 9-5, i'm the weekend." however, if you take the songs surrounding them into context, you see the larger picture of a strong woman trying to come into a world that keeps telling her who she should be.
the homely riffs of the album's intro "supermodel" touch on this as she both begs to be seen by an unnamed suitor yet also chastises them for not seeing her potential in the first place. the chastising continues in "love galore" with the notorious line "why you bother me when you know you don't want me?" and then furthermore in the next song, "doves in the wind", which takes on the complicated nature of desire and when the power dynamics of the sexes shift. moreover, only sza can make "busting it open on a headboard for the right one" sound poetic.
however, while it is important to take in the confident nature of sza's tales of woe in dating, what is unique about ctrl is that it sheds light on these issues face way that that's not only nakedly honest and intimate, but also powerful in the way that demonstrates that her pain demands validity. 
and that's where the album shines. 
because it's not easy to be honest and its especially hard to be honest with yourself about your own imperfections. take the song "normal girl" for example, which describes the kind of girl sza wishes she was.
"the type of girl you take over to mama." 
"the type of girl your fellas would be proud of"
but she's not and that's okay.
throughout the entirety of ctrl, sza speaks her shame and insecurities and she does so with a poetic and comfortable ease that puts my 15 years in therapy to shame. and moreover, it ends on the note that illustrates that while most of us know all of the things that are wrong with ourselves, it is going to take a lot more to work though that shit and that, in itself, means something.