ALWAYS TAKE RADIO TAXIS

Taking taxis in Buenos Aires is really easy. Even if you don't know Spanish very well, a few simple phrases and a knowledge of where you're actually going is all you need. The important this is to make sure you flag down a taxi with the yellow writing on both doors as they are whats called "Radio Taxi". Writing on the front doors doesn't cut it, as they are independent contractors, and are less safe. The logic behind the recommendation to call a radio taxi is that the company will have a record of the pick-up so the taxi driver is accountable and therefore unlikely to rob or kidnap you. Radio taxis are generally thought to be more reputable. Finding a taxi is not an issue, if it is not rush hour, there are lots of taxis on the streets of Buenos Aires city. At rush hour it is a nightmare. If you have to be at some place at an specific time, I would recommend you to book a taxi (or better, a remis) way in advance. A remis is a hired car and driver, booked through a remis office. They're the best way to get to and from the airports and useful for times when you need to be certain your car will arrive on time as they can be booked ahead.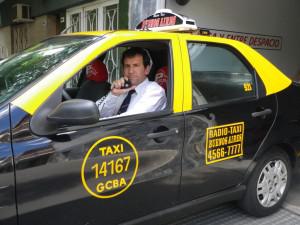 INFORMING YOUR DESTINATION
Most of the times, you have no time to check on a map where you're going, but if you do have time is always a good idea. You can check on a guía T or on internet what is the best way to get from where you are to your destination and so, you would be able to argue the taxi driver any unnecessary "short cut" that can end up being a way to charge you more. Another tip about informing your destination would be: try to avoid giving addresses like "Peron 698", instead I would advise you to give cross streets (ie. Perón y Maipú). That way it shows you have an idea of where you're going.
TRY TO PAY WITH CHANGE
Taxi drivers have been known to switch real bills for fake bills. Here's a typical scenario, the passenger, usually an unwitting tourist who speaks no Spanish, gives the driver a 100 peso bill. The driver takes it and does a quick switch, returning a fake 100 peso bill to the passenger and explaining that the bill is no good.Taxis at the Retiro train station have a particularly bad reputation for trying to rip-off passengers. It's best to keep small bills on hand to pay taxis.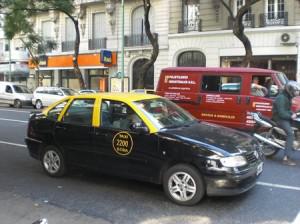 FLAGGING DOWN A TAXI
One more note about taxis: they may not stop for you if you are standing on the driver's side of the street. They are only supposed to pick up passengers on the passenger's side of the street. Personally, I have flagged down more than 100 taxis in the street, including regular taxis, and never had a bad experience. However, I know lots of people who suffered some of these cases, that is way I wanted to shared this information with you all, so that you can be alert and do not let a taxi problem ruin your stay in the beautiful Buenos Aires…