Hi everyone,
A couple of weeks ago, I was kindly sent some nail polishes from TOY, a brand I had only discovered shortly before but I absolutely fell in love with their nail polishes because of how bright and fun the shades are!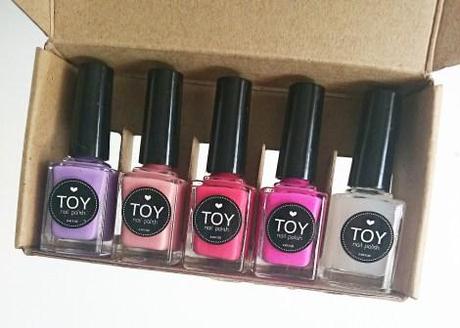 For those unfamilar with the brand,
TOY is a leading nail polish brand founded in 2012 by fashion and color fanatic Carolina Pelaez. TOY…launch a new collection every 2 months!

TOY colours are rich, providing maximum coverage and fast drying. The total set/dry time when using two layers of TOY polish and topcoat is of only 7 minutes. TOYs formula is free of commonly used toxic ingredients (3Free (Dibutyl Phthalate (DBT), Toluene and Formaldehyde), Acetone and Camphor), their bottles are made from recycled glass and the packaging from bleach free craft papers. We can all do our bit to help the environment and sustainability.
The nail polishes are made in Colombia and the shade formulas are really lovely and have a rich, creamy feel to them. Overall, the application of these polishes is quick and easy, especially with the bolder, brighter shades that basically apply opaque on the first coat (shades Coral & Rosado Neon) whilst some of the lighter shades need 2 coats (which is usually how I apply all my nail polishes) to become fully opaque and smooth.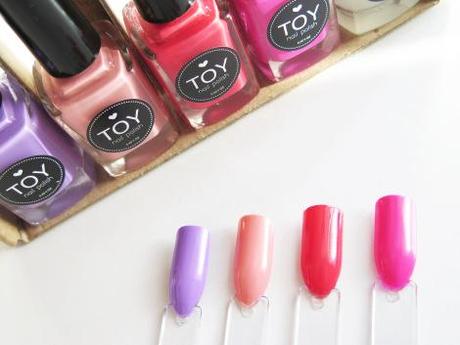 Shades L – R: Lila, Mandarina, Coral, Rosado Neon
The brushes are long and thin and work well with the consistency of the polish but I'd love to see a wider, softer brush for a quicker and smoother application as unfortunately, a few of the brush hairs had frayed which caused a slight indent. However, the formula is amazing and lets you achieve a super glossy (even without a topcoat!), opaque finish that doesn't take long to dry at all.
TOY mentions that with 2 coats of color and a top coat, the drying time is only 7 minutes and I can definitely say that these polishes dry very fast which is something every nail polish wearer loves! With a top coat, you can be confident that the nail polish will last you a full week of wear with only minor chips at the end of the 7 days.
TOY also have 2 topcoats in their range and I was very impressed with their Arctic Matte topcoat which left the nail polish lovely and matte but still with a rich looking feel to it (if that makes sense!). Once the nail polish was dry, the topcoat didn't pull or pick up any of the colour, leaving a smooth, matte finish on the nail.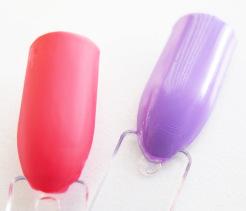 Matte Topcoat v No Topcoat
The smooth, glossy formula of these polishes are amazing and I absolutely love the range of shades available in the collection, from bright, fun shades like the ones above, which are perfect for Summer to metallic, pastel and neutral shades, I definitely suggest giving TOY Nail Polish a go!
TOY nail polishes can be purchased directly from their website. The nail polishes and topcoats retail for $12.00, while you can also purchase sets of 3 polishes for the special sale price of $30.60!
What are your thoughts on TOY nail polishes?


| Bloglovin' | Facebook | Twitter | Instagram |
*These products were kindly provided. As with all my posts, it is 100% honest and of my own personal opinion. For more information, visit my Disclosure Policy.