Hi everyone,
Today I'll be introducing you all to Illamasqua's latest collection, Glamore.
The collection is based on timeless glamour, through textures, bold shades and definition. With this collection, Illamasqua introduces 2 new product lines: Shattered Star Nails and the Satin Finish Glamore Lipsticks, both coming in a variety of bold, glamourous shades, perfect to suit all skin tones.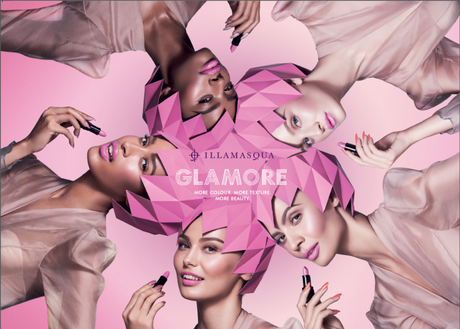 True glamour never dies. It Evolves.
Time to celebrate the classic.
Redefine your own brand
of glamourous.
   BE GLAMORE.
Shattered Star Nail Varnishes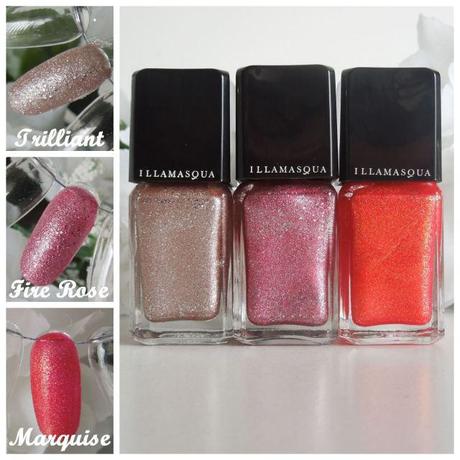 'Shattered Stars are a new take on the same highly pigmented, award-winning and chip resistant Illamasqua nail varnish featuring a a multi-dimensional glitter finish.'
With a multi dimensional glitter finish incorporating different glitter and shimmer particles, these Shattered Star Nail Varnishes give a beautiful, glamourous finish, unlike any other glitter polish on the market, Although textured, they dry to quite a smooth, finely milled sand texture, leaving them looking polished and refined.
Coming in three different shades – Trilliant, a shattered champagne with silver glitter particles, Fire Rose, a shattered pink with silver accents and Marquise, a shattered orange with gold flecks, these nail varnishes are a dream to apply.
Gliding onto the nail smoothly, coverage is very high, with one coat being enough to give an opaque finish, while two coats will guarantee a bold finish. The nail varnishes are very quick drying and have a beautiful finish from any angle. This hard wearing formula gave me 4 days of chip free wear without any base or top coat application. And even then, there was only very minor chips at the tips of my nails that weren't very noticeable at all. Removal is also quick and easy, unlike most glitter nail polishes which take quite an effort to remove.
These gorgeous nail varnishes are a step above the rest with their quick and easy application, stunning finish and beautiful shades, they're sure to add both color and glamour to any of your looks and are a must try this season.
Satin Finish Glamore Lipsticks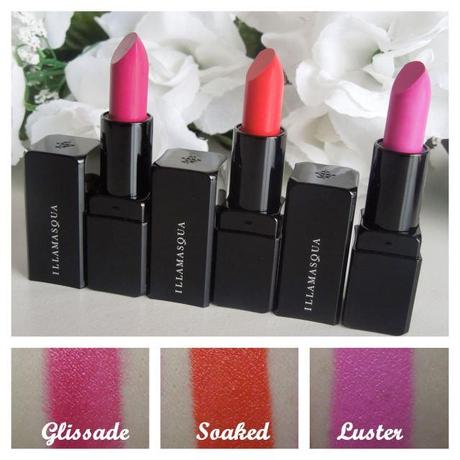 'Colour intense lipstick with a long lasting satin finish. Ideal for a more hydrated comfort finish. Can be worn under a sheer lip-gloss for more 3D Effect.'
With 3 vibrant shades, the Illamasqua Satin Finish Glamore Lipsticks come in a new formulation, giving a highly pigmented satin finish. Glissade, a bold pink, Soaked, a vibrant orange and Luster, a candy pink are the three bold yet glamourous shades in this collection. Perfect for everyday or a night out, these lipsticks deliver in all aspects.
With a creamy, emollient formula, these lipsticks apply beautifully smooth and deliver highly pigmented color in just one swipe. Comfortable to wear, they apply with a shine, although this fades after an hour or so, leaving a finish that is between a matte and a shine. The formula, which contains Vitamin E, while not overly hydrating, doesn't dry out the lips in any way nor does it draw attention to any lines or flaking on the lips, making it perfect to wear all year round.
Because of their high pigmentation, the lasting power of these lipsticks are also a standout. Each of the beautiful lipstick shades wore very well on my lips as I was able to get a good 5 hours of intense color before it began to slowly fade into a stain. As seen on the promotional image, these lipsticks have been made to perfectly suit and flatter any skin tone.
Overall, I am highly impressed by this collection. Glamore delivers on color and texture through the Shattered Star Nail Varnishes and Satin Finish Glamore Lipsticks. With amazing application, formulation and wear, these products are the perfect way to inject some bold color and glamour into your beauty look that will help you stand out from the crowd!
The Illamasqua Shattered Star Nail Varnishes are available at Myer for $22.50.
The Illamasqua Satin Finish Glamore Lipsticks are available at Myer for $25.00.
What do you think of this collection by Illamasqua? Leave a comment below!
Like this post?
Follow me on Bloglovin'!
Like my Facebook Page
Follow me on Twitter
Follow me on Instagram
That's all for now,
triedandtestedblogger XOXO
*These items were kindly provided to me for the purpose of reviewing them. As with all reviews I post, it is 100% honest and of my own personal opinion. For more information, visit my Disclosure Policy.