Fashion and beauty influence each other both on the runway and in everyday life. factorie, the fashion brand has over 200 stores worldwide and they have now branched out into the world of beauty, introducing the 'Make Up Make Out' range, consisting of everything from nail polish, makeup brushes, contour kits, eyeshadows and more.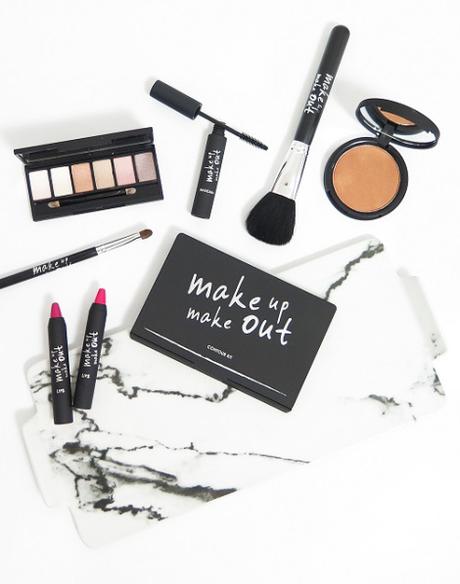 For some shimmer, the Eyeshadows come in a palette of 6 and overall, perform quite nicely. My palette included 6 beautiful, shimmery shades that had a nice texture in pan and was best applied with a finger or wet makeup brush to allow for great pigmentation and very little fallout. Over a primer, they blended nicely into other eyeshadows and lasted well on the eye whilst I was out and about.
The Mascara was a real favorite of mine for a number of reasons! The plastic wand doesn't pick up too much product so the formula really defines and lengthens the lashes, without weighing them down. As the mascara has a tubing formula, it lasts all day without flaking or smudging but at the end of the day, removal is very easy as the formula slides off the lashes. It's a must try from the line!
The Makeup Brushes are also beautifully made with the bristles soft and able to pick up and blend product well. After many washes, they still maintain their shape and haven't shed any bristles.
I found that the Bronzer would probably work well for those with a darker skin tone than mine as it was slightly too dark for me, though it does blend out well so as long as you take your time with application, it can work for everyone. The formula contains fine shimmer so it really delivers that glowy, sun-kissed look to the face.
The Contour Kit is the most expensive product in the range, coming in at $24.95. Like the popular contour kits in stores these days, the palette features 3 highlighting shades and 3 contouring shades, along with a full mirror and tutorial which comes incredibly handy. The powders are lovely and smooth, blending out quite well on the skin. The yellow toned powder to set under the eyes and the 'highlighter' which is very natural and low on shimmer are my favorite shades in the kit because they're perfect for everyday use. The center contouring shade is also a fantastic cool tone that's easy to wear, even for those with fairer skin.
factorie's Lipsticks come in a twist up crayon for easy use and I was pleasantly surprised with this product as it is amazing to apply! The formula feels hydrating and balm-y, allowing it to glide onto the lips with ease whilst still delivering pigmentation. The shades I tried out, Scarlett Berry and Lucy Pink produced a great pop of color within a swipe or two and it lasted well on the lips, fading away evenly and leaving a stain behind. The formula doesn't try out the lips and produces a nice shine upon application.
Have you tried anything from factorie's beauty range?


| Bloglovin' | Facebook | Twitter | Instagram |
*These products were kindly provided. As with all my posts, it is 100% honest and of my own personal opinion. For more information, visit my Disclosure Policy.