Booki Brow Co. is one of Australia's latest brands who have launched into the brow market, promising to empower you with a strong brow! With a selection of brow powders and brushes, the products are fuss free and easy to use.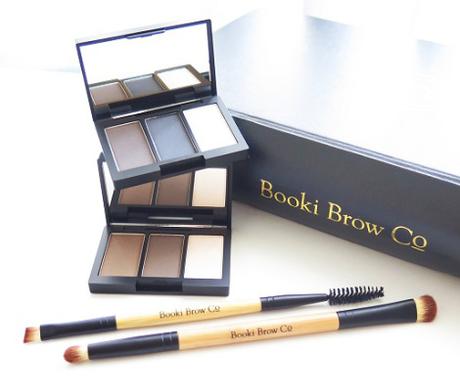 The current range features two 'Trio Eyebrow Powder & Highlighter Palettes', one in Light Brown/Blonde and another in Dark Brown/Charcoal to suit a range of brows. Alongside the palettes are two brushes, the Duo Brow Brush, which features a spoolie and angled brow brush whilst the Duo Highlighting Brush features a rounder and a flatter eye brush.
The Trio Eyebrow Powder & Highlighters are packaged beautifully in a compact size whilst still featuring a large mirror, making for easy application on the go. Both palettes feature cool toned brow shades (which is fantastic as some other powders can lean quite warm and reddish on the skin!) that work well together, allowing you to shape and fill the brows with the darker shade whilst using the lighter shade at the start of the brows, for a more natural finish.
I found the Light Brown/Blonde to have slightly more pigmentation than the Dark Brown/Charcoal variation, however both have been formulated well, with the powders not overly pigmented, meaning you'll still be able to achieve a statement brow without ever accidentally overdoing it. The brushes pick up and apply the powder well, with the angled brow brush the perfect size and shape to fill in both the sparsest and fullest areas of the brow.
The highlight in both palettes are the same and I have to say, that powder is definitely the highlight for me (pun intended!). It's beautifully smooth and pigmented, producing a stunning highlight under the brow bone or anywhere else you apply it! Its shimmery without being sparkly when reflecting light. The soft brush heads on the Duo Highlighting Brush allow you to apply and blend out the powder very well.
Each product from Booki Brow Co. is available to be purchased separately, however, the Trio Collection which features both brushes and one palette is the best value at $59.99. All orders also receive free International Shipping.
What are your favorite brow products?


| Bloglovin' | Facebook | Twitter | Instagram |
*These products were kindly provided. As with all my posts, it is 100% honest and of my own personal opinion. For more information, visit my Disclosure Policy.