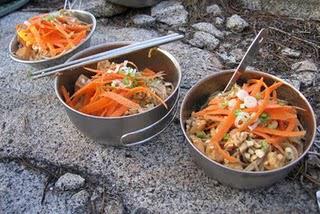 The new USDA healthy eating icon, ChooseMyPlate.gov, can also help your family enjoy high energy, great tasting meals on all your camping adventures.
PLAN
Preparation at home makes things much easier around the campfire. By pre-cooking and packing at home, you'll have more time for hiking, fishing, canoeing, and relaxing. Planning ahead also means you won't have to haul lots of kitchen equipment around.
Slice, dice, spice and FREEZE:

Meat and poultry are easier and safer when the prep work is done at home. Cut into suitable serving sizes – and trim away excess fat and skin. Add herbs, spices, or marinades – and freeze in leak-proof bags or plastic containers. Frozen meat will also help your cooler stay cold.

PRE-MIX as many ingredients as possible:

Pre-mixing saves time and reduces messy camp cleanups (reducing hungry animal visitors too!). For example, mix all dry ingredients for pancakes or cornbread (baked in a Dutch oven) together and store in a plastic bag. Add water, milk, or eggs when it's time to cook and throw the bag away.
EAT
Get colorful with fruits and veggies:

Fresh or dried fruit makes perfect snacks, with no refrigeration needed. Fill baggies with your family's favorite flavors and make sure they always have one handy in a pocket or pack. For MyPlate veggies, bring pre-mixed salads and plenty of ready-to-eat options like baby carrots and sliced peppers.

Go hearty with whole grains

:

MyPlate suggests making half your grains whole, which is easy to do at any camping meal. Oatmeal is a wonderful way to start the day, with lots of energy for hiking and boating. Whole grain breads make delicious wraps and sandwiches at lunch time. Toasted whole grain buns are just right with burgers!

Pump up camp dinners with lean protein:

Hot dogs are high in sodium and low in protein. To get plenty of MyPlate lean protein, grill lean beef, poultry, fresh fish, or wild game. Quesadillas are easy to create in a heavy pan with whole grain tortillas, low-fat cheese, grilled veggies, and sliced chicken or pork (pre-cooked at home).
ENJOY
Treat your family to some new flavors in your camping meals this season. And always remember to be food safe by keeping hot foods hot and cold foods cold.