Sandra Y. Johnson and her jazz group will be performing at Take 5! on Thursday, November 17th from 5–7 p.m. in the Kogod Courtyard. Laurel Fehrenbach, Public Programs Coordinator for the museum, asked Sandra a few questions about her music and what to expect for her concert.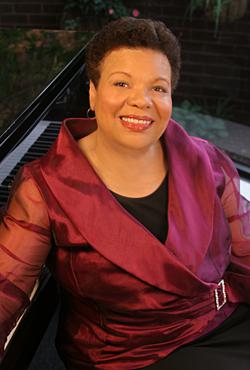 Sandra Y. Johnson
Eye Level: Sandra, you've been a part of the D.C. Jazz scene for many years. Can you pick out a favorite memory, performance or great jazz moment to tell us about?
Sandra Y. Johnson: I actually started rather late learning jazz. I joined the Elliston Vocal Jazz Workshop under the direction of Ronnie Wells and Ron Elliston in 2000-2001. I studied with them for about 3 1/2 years before studying privately for 1 1/2 years with Calvin Jones, Director of Jazz Studies at UD.C. until his passing. Mr. Jones and I began working on my debut CD, "Steppin' Out" in 2003. While my experience working with Mr. Jones was a great memory and lots of fun, I had another wonderful and pleasant surprise. I needed permission to use one of Gloria Lynne's tunes, "Lend Me Yesterday" for my debut CD; and, I contacted the record label that said they would contact her. It was Thanksgiving Day 2003 and I got a phone call from Gloria Lynne herself. I was ecstatic!! I have been in touch with her ever since; and she has written liner notes for my new CD, "What Are You Doing the Rest of Your Life?" I have also recorded another of her compositions on that CD entitled, "Love is Blind". That phone call on Thanksgiving Day has led to a lasting relationship, which I treasure. I was also a part of a group from Westminster Presbyterian Church that brought Gloria Lynne to the Lincoln Theatre in 2005. That performance was phenomenal!! She sang for 1 1/2 hours and I could not stop myself from screaming; she was truly the Glorious Gloria Lynne!!
EL: What do you think is so unique about jazz in Washington, D.C.?
SYJ: D.C. has a long history of jazz greats beginning with Duke Ellington, Pearl Bailey and others who lived in the area and others who came here to perform. The Lincoln and Howard Theatres brought many of the jazz performers to our city; and U Street housed many jazz clubs and was named, "Black Broadway". Today, The University of the District of Columbia (UD.C.) and Howard University both have Jazz Studies Programs and are the starting places for many local jazz musicians and vocalists. UD.C. houses an extensive Jazz Archives of recordings, photographs, books and other jazz memorabilia in its library. Additionally, D.C. also has the historic Bohemian Caverns and Blues Alley where great jazz can be heard almost nightly. All along U Street, jazz has come alive again after a few years of almost silence. And, there is Westminster Presbyterian Church in SW whose efforts to preserve jazz and educate audiences about its history are noteworthy. There are many organizations in D.C. that have a similar mission—HR-57, Mid-Atlantic Jazz Festival, The Kennedy Center Jazz Program, Smithsonian Jazz Programs, Thelonius Monk Institute, and many others. I also feel very fortunate to work with very talented local musicians who have worked with many jazz greats all over the world, but who will also work with me. D.C. has an abundance of very talented local musician and vocalists.
We cannot forget we have our own jazz radio station, WPFW (89.3 FM) where they not only play the music of the jazz legends, but they play the music of local musicians and vocalists as well. We had for a long time the East Coast Jazz Festival that was headed by Ronnie Wells and Ron Elliston for over 20 years. Since Ronnie's passing, Paul Carr and Willard Jenkins have now taken it and reinvented it and it is now called the Mid-Atlantic Jazz Festival and it is still held in Rockville, MD over President's Weekend at the same Hotel--formerly the Double Tree, now named The Hilton. So, jazz is still alive and well in D.C.!!
EL: You were the 2nd Place Winner of the Billie Holiday Vocal Competition in 2006 and 2007. What was the experience like?
SYJ: My experience participating in the Billie Holiday Vocal Competition was intense and very competitive. However, I met many wonderful, talented vocalists during the competition; and, the Baltimore Office on the Promotion of the Arts invited many of the winners and those who placed over the years back for a "Billie Holiday Tribute" in 2010. There I met other winners who I had not had an opportunity to meet. It was a very rich experience.
EL: Gospel singing is a big part of your singing background. How does it fit into your particular style of jazz singing?
SYJ: I began singing in church choirs in 1984 and have been a member of the Washington Performing Arts Society's Men & Women of the Gospel Choir since 1995. We perform annually at the Kennedy Center's Concert Hall in January; and, I have found my participation in the choir a very rewarding experience.
Jazz is an entirely different "animal" from gospel music. While both genres have a certain amount of freedom and passion, in terms of the form of the song and the way in which the song is delivered, they are quite different. However, I am able to draw upon my gospel roots, especially in the delivery of some ballads, but particularly when singing the blues, which is very similar to gospel.
EL: What is next for Sandra Y. Johnson?
SYJ: The title of my newly released CD, "What Are You Doing the Rest of Your Life?" really says it for me. I'm still trying to figure out what's next. I retired from the Federal Government in 2004 after 37 years of service, and I wanted to perform as much as possible. I've discovered I enjoy performing for seniors in nursing facilities, senior recreation and wellness programs, and senior apartment dwellings; and, I particularly enjoy performing at private and special events. I'd like to record/produce at least one or two more CDs. And, on my "bucket list" is that I would love to perform at the Kennedy Center's Millennium Stage; and, I'd like to get booked for a few weeks to perform at a resort in the Caribbean every year, preferably in January and February.
Beyond that, I really don't know, but I'm open to explore new territory.