Isn't that Patsy from
Absolutely Fabulous
? Yes, it is. Joannna Lumley has calmed down her signature beehive and put aside the endless glasses of bubbly and taken on the role of travel guide for two very watchable documentaries from Athena,
Joanna Lumley's Nile
and
Joanna Lumley's Greek Odyssey
. Both two-disc DVD sets feature four episodes and Lumley's delightful observations on the local sights and history. In
Joanna Lumley's Nile
the host lays out her plan of attack, to travel the entire length of the north-flowing Nile, considered the longest river in the world, with a length of 4,132 miles (6,650 km). Like most travelers, she intends to take the trip "backwards," starting in Egypt, where the river's mouth spills into the Mediterranean, and ending at its source, at the Rwanda-Tanzania border.
...
When Lumley finally reaches the source of the Nile she is visibly moved, and viewers may regret that their journey and hers has come to an end. But not to worry, Lumley is on the move again, in
Joanna Lumley's Greek Odyssey
. This trip seems a bit more personal, as Lumley has traveled to Greece many times before, since her first visit at the age of 20, and has a real love and rapport with the country. Once again she tours some of the most-visited and familiar sites, like the Acropolis in Athens, the Oracle at Delphi, the almost inaccessible monasteries of Meteora, and even climbs a bit of Mount Olympus, but there are always surprises in store. Some of the more offbeat destinations include the fabled the Gates of Hades, the site of a former leper colony, and a remote village where the remaining inhabitant speak in their own strange language of whistles.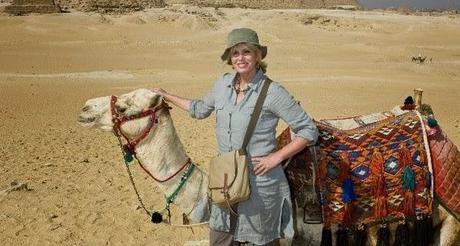 Joanna Lumley, with friend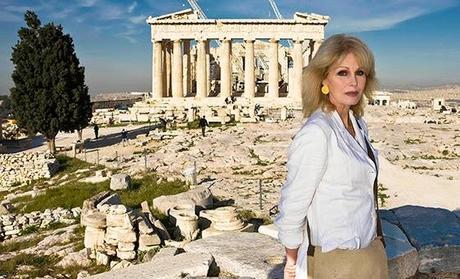 At the Parthenon
You can read my complete review on Cinema Sentries.