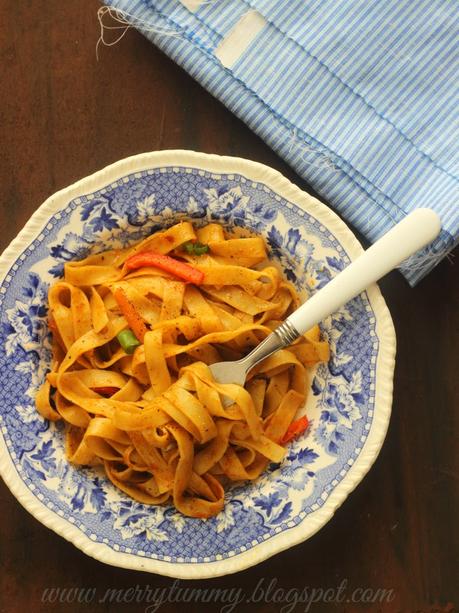 One thing that fantasises you most about pasta is probably its shapes. By the way did you know that there are 600 shapes of pasta, out of which penne, spaghetti and fusilli are most known? Pasta is easy, quick and healthy - after all it is one huge source of carbohydrates and if you combine goodness of vegetables, you will end up having complete meal. That's why for the days when I have less time in hand or just feeling lazy I think of preparing pasta.Pasta is a weekly affair in my kitchen and I have experimented a lot with pasta sauces. Penne in red wine sauce is for adults-it's boozy and spicy. Burnt garlic pasta is for anyone who loves garlicky flavour (like me)-it's pungent and aromatic. People who prefers smoked taste, must try roasted bell pepper pasta, its- burnt, tangy and sweet. For spice enthusiasts I have red chilli pesto pasta-fiery hot.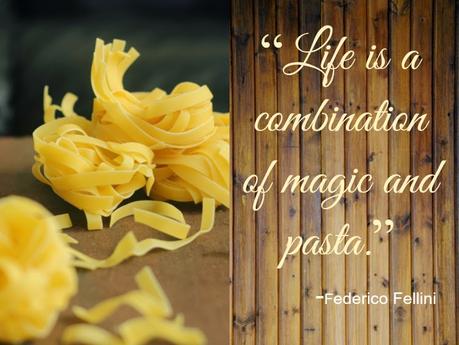 Today, it is Simplest 
Italian
 Pasta. No fuss and no sauce-some handful of Italian spices mixed together. I guess the ease and simplicity is what makes this pasta extraordinary. I tossed along some chopped spring onions,carrots and bell peppers, but feel free to add in any vegetable, like zucchini, onions or tomatoes. I used my new 
favorite Napolina Tagliatelle Pasta, 
its more like flat noodles, but the same recipe can be followed for penne, 
spaghetti
 or any pasta.
Ingredients:
10 circles of pasta
2 garlic cloves 
grated
1/2 cup chopped carrots
1/2 cup chopped bell pepper/capsicum
1/4 cup chopped spring onions
1 teaspoon dried oregano
1/2 teaspoon dried basil
1 tablespoon soy sauce
1/2 teaspoon tomato 
ketchup
1/2 teaspoon black pepper powder
Salt to taste
2 tablespoon olive oil
Method:
Cook pasta as per packet instructions. Do add 1/2 teaspoon of salt in the water. You know pasta is done when it starts to stick on the pan. Drain and keep aside.

Heat oil in a pan. When oil is hot, add grated garlic and cook till garlic is golden in color.

Add in chopped carrots, bell peppers and white portion of spring onions. Saute on high heat till the vegetables are half done.

Next, add in boiled pasta and all the other ingredients. Toss well, such that spices are coated over pasta. Cover and cook for 1 minute. Mix and serve.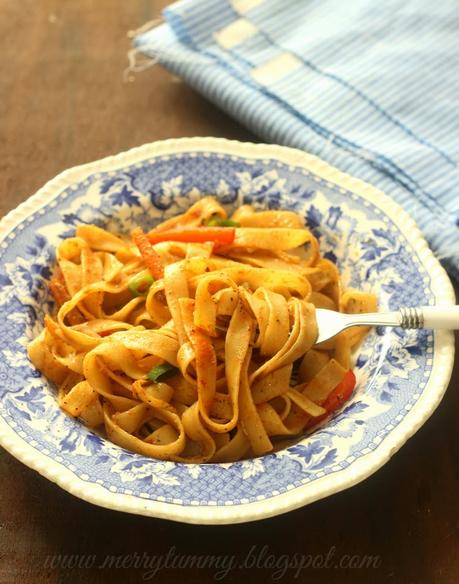 Notes:
Never add oil while boiling pasta. The pasta becomes slippery and the sauce doesn't coat on it.
Feel free to add chopped veggies like onions, zucchini, beans or mushrooms.
Serving suggestions:
Serve with any toasted bread.
For a complete posh meal, serve with red wine walnut bread, 
baked potato wedges 
and 
bloody mary.
Pair this pasta with any refreshing drinks such as-
roasted orange lemonade,
mint cucumber cooler
or 
rose ice tea