TAKEAWAY: The good news is that we are able to develop apps these days with more help from surveys and studies.  Even better news, regardless of where the studies come from, the themes are universal in terms of how readers use their tablets.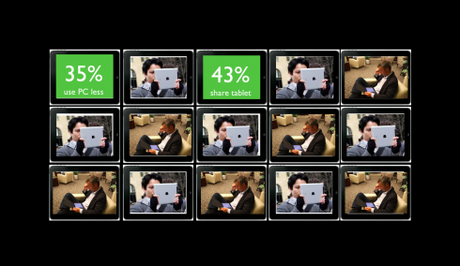 From The Nielsen Study
As we discuss how the Poynter new EyeTrack research project develops, and what we test to provide the industry with those answers it seeks about the habits of tablet users, I am happy to see that each day brings a new survey or study that sheds more light on the users.
A recent Nielsen study about US tablet users indicates that they do not behave very differently from their counterparts globally.  The information we gather in focus groups conducted by the various clients with which I am currently involved, corroborates what we find out here.
Some highlights of this recent study:
Sharing: Half of all tablet owners in the US reported being the only ones in their household using their particular tablet, while 43 percent said they shared the tablet with others.
In focus groups I have participated what we found out is that although the tablet itself may be shared, the "activity" of using a tablet continues to be one-person.  This, of course, is the same as with printed newspapers, where up to 6 or more readers may share a copy of the newspaper (in places like India it could be as many as 10 plus), but with one person reading the newspaper at a time.
Good bye PC: 35 percent of tablet owners who also owned a desktop computer reported using their desktop less often or not at all, while 32 percent of those who also owned laptops, said they used their laptop less often or never since acquiring a tablet.
Again, this is exactly what I have heard from people participating in focus groups, a lesser reliance on PCs, as the tablet satisfied many of their needs.
Personally, I don't think tablets will kill the PCs, not at all, but they will be the platform of choice for all of those "lean back" activities, such as playing games, reading books, newspapers and magazines in a leisure mode, and watching movies.
I believe that our Poynter study is off to a great start and will offer answers to many of the questions we have as storytellers, designers and developers.  In this new medium, it is not just about how the eyes move, but also how the finger acts when presented with information that give stories longer legs via pop ups, videos and audio.  This is one reason we are considering adding something to the effect of TouchTrack to the title of the study.
Those not familiarized with Poynter's previous EyeTrack research studies, they appeared in 1990, 2000 and 2007, with the first focused on print, and the last one about online reading habits.
TheMarioBlog post #807