TAKEAWAY: With The Economist planning to publish a desktop app that mimics the tablet experience, it validates the idea that readers want to read news editions that come to an end.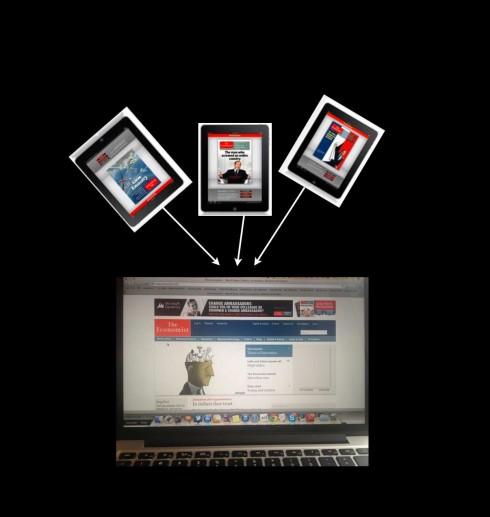 In our blog post Wednesday we discussed the Financial Times and how it is catering to the needs of its digital users who want both the dynamics of constantly updated editions, but, at the same time, crave for the so called "static" (I don't like the term personally, as it has negative implications), or curated edition that has a beginning and an end.
Yea, digital users want that last page of the book, the last sip at the bottom of the expresso cup, the sign at the end of the movie that reads The End.
And now, The Economist seems to be validating the idea of editions that have a sense of finality.
Take a look at this headline: The Economist plans desktop app that mimics tablet experience
What the headline means by tablet experience is exactly that: a lean back experience to be read in its entirety whenever the user wishes to do so, whether he is connected to the Internet or not.
While most media companies are using the HTML5 standard to make websites designed for desk- and laptop devices equally accessible on mobile devices, The Economist is going in the other direction—creating a tablet-like experience for the traditional Web—with a Google Chrome app that it plans to debut in mid-May.
The free app will allow users to view the issue at a later time without an Internet connection. Each weekly issue of The Economist will be available within the app, for subscribers, at 9 p.m. London time on Thursdays. Nonsubscribers will be able to register to read free Editor's Picks.
The Chrome app is written in HTML5 but looks the same as the tablet app.
More importantly, it will bring the already proven benefits of tablet reading, the so called lean back experience, to the computer.
Cross germination of platforms is the shape of things to come, and not just via responsive design.
For more:
http://www.btobonline.com/article/20130417/MEDIABUSINESS1205/304179993/the-economist-plans-desktop-app-that-mimics-tablet-experience
TheMarioBlog post #1251