T in the Park bid #byebyebalado last weekend, as the festival moves to it's new home of Strathallan Castle in 2015.  To help us at Scottish Fiction document the last ever T at Balado, and to capture the experience of playing, we asked a number of bands to keep a T diary.  Get ready to feel like a peeping Tom as we take a look into the pages of Call To Mind's T diary...
BBC Introducing invited us to T in the Park to play their stage on the Sunday evening.  Having never been to Balado or any other previous T, I wasn't really sure what to expect.  As a band, we've been lucky to play at various festivals around the country before, such as Brew at the Bog, Belladrum, GoNorth, In The City, Rockness, and even over at Iceland Airwaves once upon a time.  It's fair to say though that T in the Park dwarfs all of those in terms of sheer scale.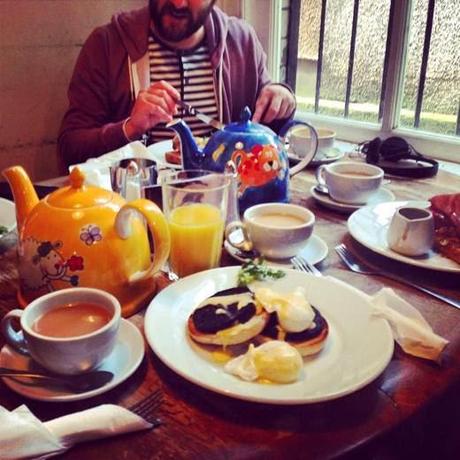 Before setting off, we fueled up in the cosy surroundings of The Glad Cafe, over on Glasgow's Southside.  Cups of tea, scrambled egg and toast were consumed.  The Glad acts as something of a hub for us as pals, a place to catch up, talk nonsense and check out other bands on occasion in the venue.  We launched our album there back in April.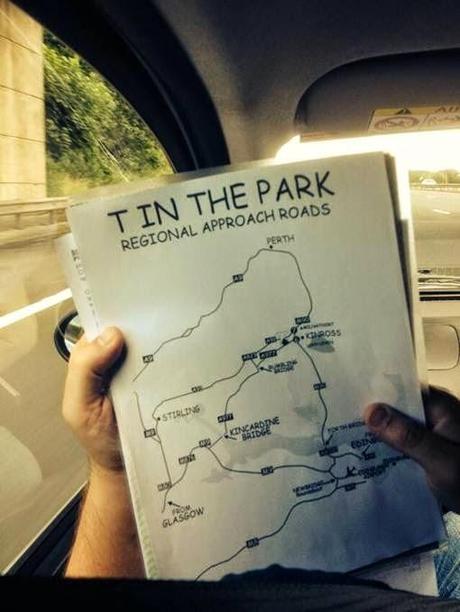 The drive to Balado was sound tracked by our own enthusiasm - general excitement, chatting about bands you saw on the TV highlights last night, bands you want to see, hoping for decent weather but then rubbish weather when we played (every band playing in a tent wishes this!).  The journey there flew past, nipping over the Kincardine bridge, through Yetts o' Muckart, Drum, then Balado.  A beautiful day.  The sun was shining over the site, which looked huge - the sheer size of it all on the drive down into Balado was something I hadn't expected and it took me by surprise.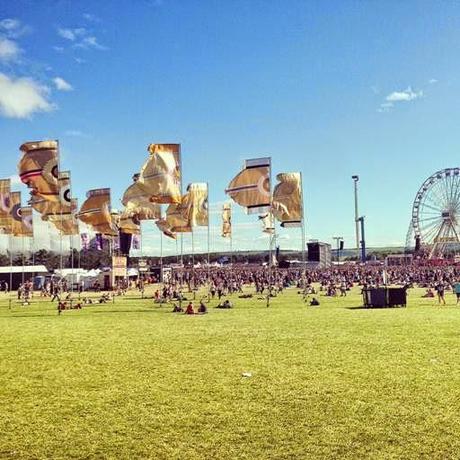 Into the staff car park, we headed off to sort out our passes for the day.  The BBC Introducing stage was a few bus stops away, so we hitched a ride on the backstage shuttle bus, which did a loops around the outside of the festival over the weekend, getting staff and bands where they needed to be.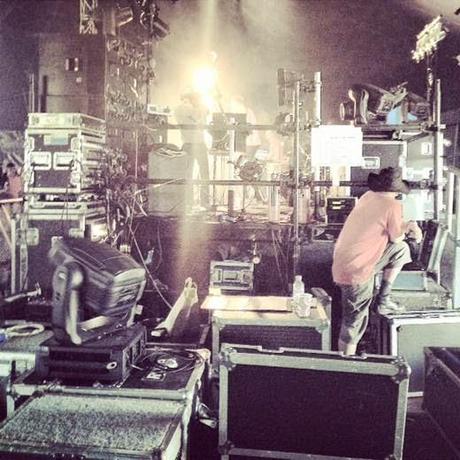 We popped in to say hello to the folks running things (tip to other bands: always be nice to your sound, lighting and other technical people, as well as your artist liaison and anyone else involved backstage - they invariably want to help you out and make your performance as good as it can be, and moreover they love to see you enjoy the experience of playing.  We absolutely pride ourselves on this aspect, and typically everyone we meet is brilliant), and with a handful of hours before we were needed back to set up, we went off to see some music.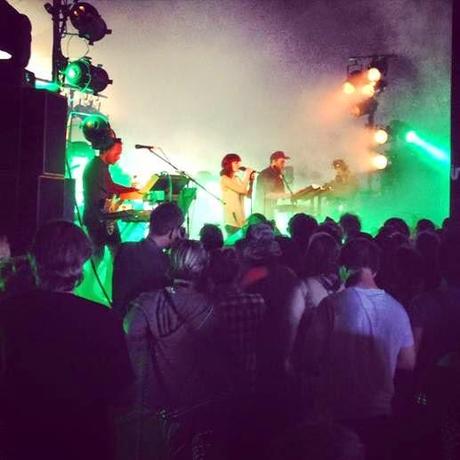 CHVRCHES were just about to start playing a surprise set in the BBC Introducing tent, so we had timed it well and were able to catch most of it.  The Bones of What Your Believe was my tip for The SAY Award last month, and it was nice to see the band in a live setting (a first for me) – the crowd were fantastic as well.  This turned out to be the first of two appearances on the day for CHVRCHES, as they stepped in to replace London Grammar (who had to cancel due to illness) on the Radio One stage.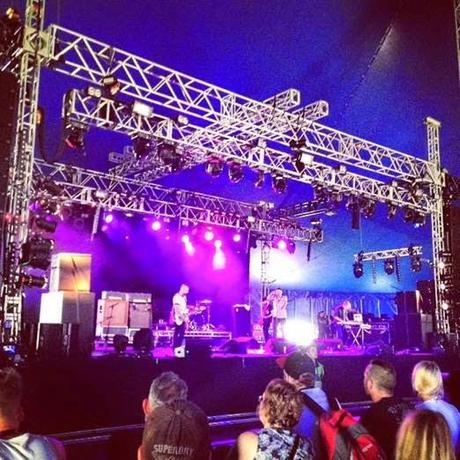 Hot-footing it over to the King Tut's tent, we headed to catch The Twilight Sad, one of the few bands we were all in agreement about getting down to see.  Maybe The Twilight Sad had an inkling of the German success to come later on in the World Cup final that evening (Andy from the band was wearing a Germany top).  It was great hearing them on a big stage, with the full force of a sizeable PA behind them - they sounded utterly epic.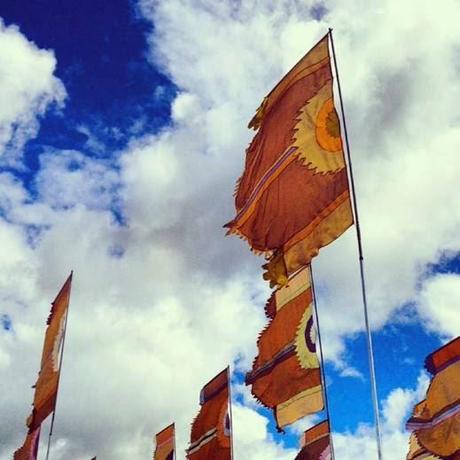 We bumped into Vic Galloway during the Twilight Sad's set and once they'd finished we decided to venture outside in search of a cold beer.  Sunday saw the sun shine almost all day and well into the evening, in stark contrast to Saturday's driech downpour!  The pancakes from the stall in the background below were outstanding by the way.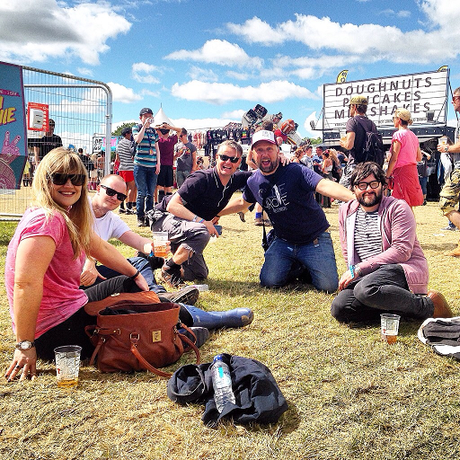 Back over to the BBC Introducing area (while on the way trying really hard to keep the Kaiser Chiefs' Ruby from crow-barring its way into my brain), behind the stage there was an interview tent.  On the wall within this there was space for each band to sign their name or put a message.   This had already been written on by the bands who had played BBC Introducing stages at Glastonbury and Radio One's Big Weekend, with messages, lyrics and band logos, and a few choice drawings, so we added our own scrawls to it as well.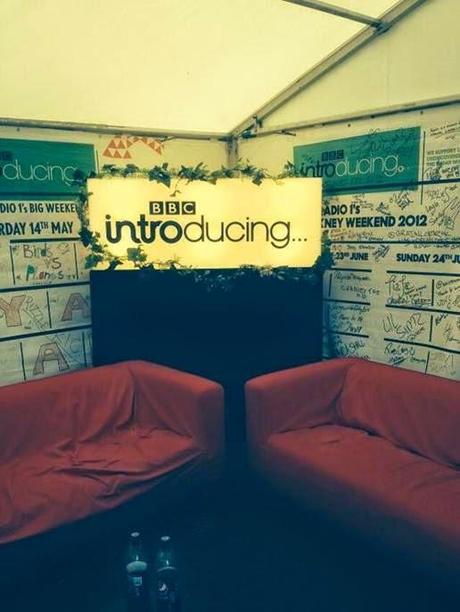 A wee seat in the sun for about half an hour leading up to our set was nice.  With no sign of rain, we were thinking the crowd coming to see us might be somewhat minimal, but by the time we headed in to set up on stage a crowd of 200 or so had gathered inside.  Likely 200 people who hadn't heard us before, which makes for an exciting prospect.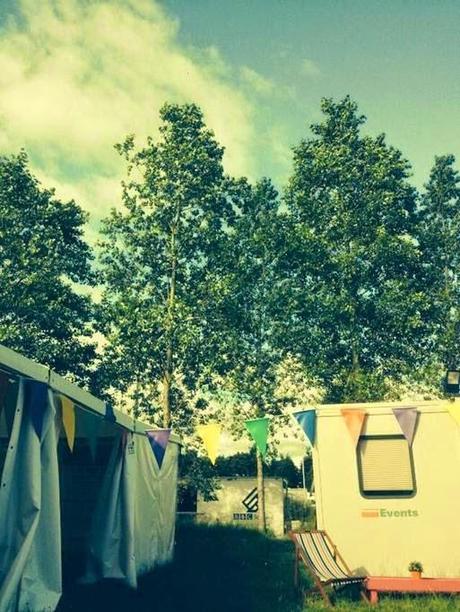 One of the big differences for us with this gig was the TV cameras dotted around the stage and also down at the front - it was difficult to try and not notice them there.   For the first few songs the gap between the stage and the crowd barrier was filled with a handful of photographers snapping away.  I spotted a topless chap (who'd clearly had too much sun) busy clapping in and out of time at the back of the tent; he was having a great time.  These things made the first half of the set feel a little bit surreal.   The trouble with having a half hour slot is that you're only really starting to get into it as the set begins to wind up – the time flies by – certainly with us, as much of our music builds up slowly, it sometimes feels a little forced when we have to squeeze things into 30 minutes.  The crowd were on good form and we really enjoyed playing for them.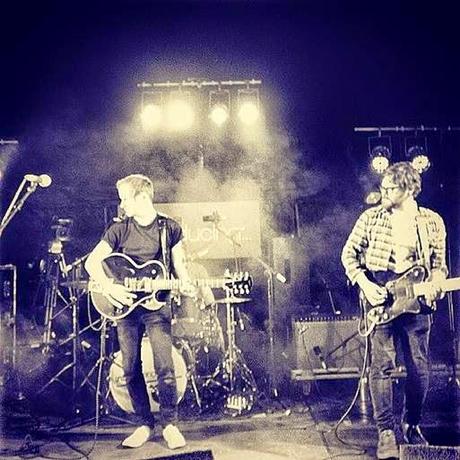 Our bass player Andrew unfortunately couldn't make it to T, so we had drafted in our friend Dave to help out.  He formerly played in Barn Owl and has recently been playing bass for our Olive Grove pals The Son(s).  It was great having him along – huge thanks for helping us out sir!  As soon as the set was done, we were keen to get our gear off the stage as soon as possible – the line up had been running like clockwork throughout the day, so we didn't want to let the side down.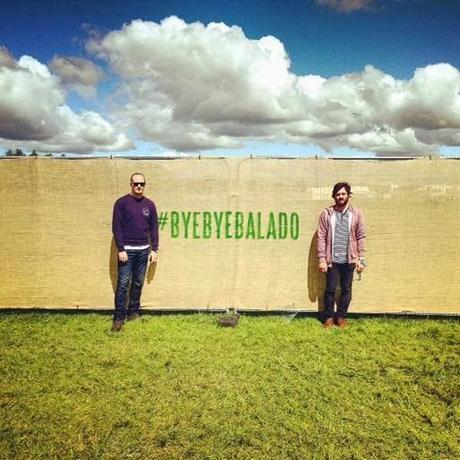 BBC Introducing is an invaluable channel for us in terms of national airplay, basically a modern-day John Peel in effect, and to be invited to play at T in the Park was a pretty humbling experience, even more so due to the exposure that has come with it.  Social media interest in the weeks leading up to T generated welcome attention, with Facebook likes, retweets, and even sales of our music benefiting from a halo effect.  Festival appearances seem to do that for bands in general, and we are very much indebted to the likes of Vic Galloway, who has been championing and playing our music for a number of years now, and Ally McCrae, who has supported us on the back of our last few single releases.
From 1 September, unfortunately the BBC Introducing show on a Sunday night will no longer be broadcast, which I find a little unsettling.  Granted there will be a BBC Introducing 'slot' during Huw Stephens' show throughout the week from 10pm - 1am, Monday through Wednesday, but it kinda feels a bit like the beating heart of new music at the BBC is fading a little.  Throughout the day the turnouts at the BBC Introducing and T Break stages only underlined what a pivotal role these mediums play in pushing lesser known often unsigned acts to the mainstream public.  So keep supporting radio shows and podcasts, keep listening to them, keep texting and tweeting in...  Ruby, ruby, ruby, ruuuby.