After an almost thirty-hour long trip from Florida, my in-laws arrived in Sydney looking unaffected and ready to rock like teenagers on Red Bull.   
The first surprise we had lined up for them, was that instead of going to our house we were bringing them to a hotel for a few nights so we could properly disinfect and eradicate the Swine Flu from every surface in that germ factory we call a house.   Luckily Grandma and Grandpa had had the flu vaccine, and by the time they had arrived in Sydney we had recovered the week prior-- but better safe than sorry.  So I guess you could say they got the bonus package, a few days at a nice hotel with Opera House and Bridge views, and a little extra time to mentally prepare for a week of living with two energetic 5 and 6 year old boys.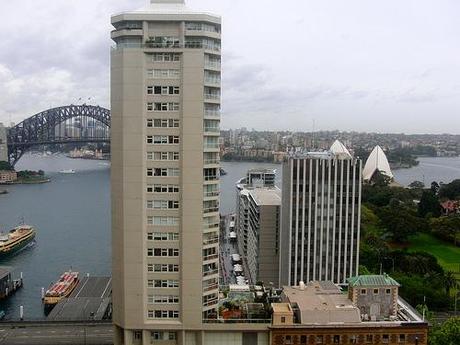 The view from the hotel room...  I'm still surprised they agreed to check out.
 
Unfortunately, the weather in Sydney has been very temperamental the last few weeks, the second day they were here record wind gusts were raging through the city.  And for some reason we thought this would be a good time to take the in-laws to the famous Icebergs at Bondi Beach for lunch; the good news is, the surfers were out in full-force and it was a real taste of the Aussie spirit and love for surf.
 
This video doesn't exactly do the treacherous winds justice, but trust me they were insane.  What also didn't come through on the video was the cute, old-married-couple-argument my in-laws were having-- hence the cheeky commentary from yours truly.
So, wintery weather and sporadic blistering sun didn't stop us from showing Grandma and Grandpa the best of Sydney.  And the Sydney Night Noodle Market was calling our name.
Note:  No people at the Night Noodle Markets were harmed by the tiger shown in the photos below; though it is a very realistic looking tiger, he is not real...  he is in fact, my five year old child who wears a tiger costume when and wherever possible.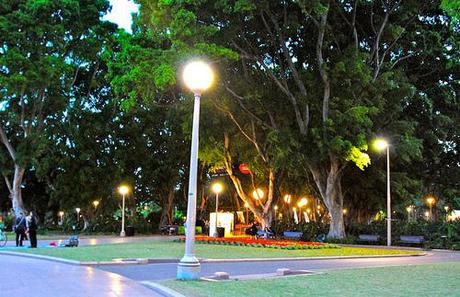 The 2010 Night Noodle Market, tucked away in the middle of Hyde Park.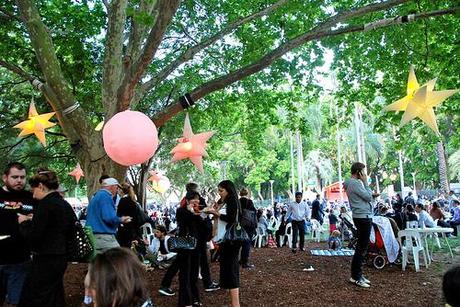 I wish I had these paper lanterns in my house.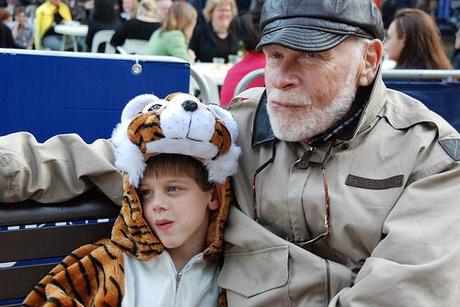 OMG.  Grandpa and mini-Grandpa.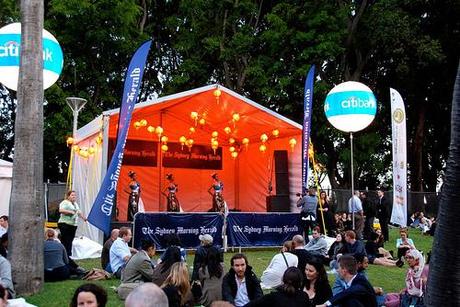 A little entertainment amongst the food stalls.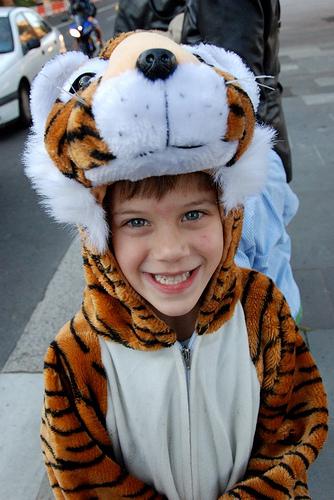 I sometimes get comments from readers who think they have seen us out around town but aren't sure... so, if you see a little tiger with big blue eyes--- it probably is us!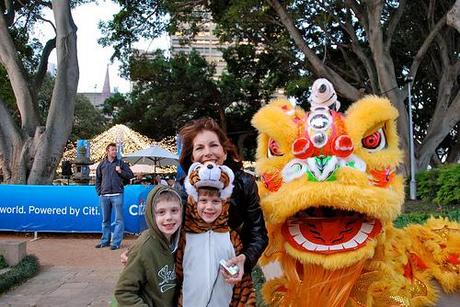 Maybe next year they'll hire my tiger as the Chinese dragon's sidekick?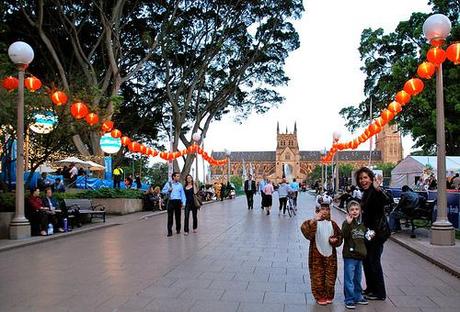 Sydney Night Noodle Markets-- I highly recommend going... and eating many dumplings, and noodles, and some Serendipity Ice Cream!!