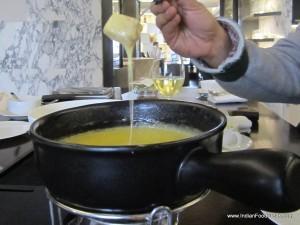 Stammtisch is a German word meaning "regulars' table". It is very much like our own 'adda'.  Like what happens in the Kolkata coffee houses, here too it involves an informal group meeting held on a regular basis, Such a meeting can involve socialising, card playing or political discussions and is popular in Switzerland and Germany.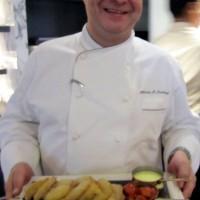 The idea of bringing Stammtisch table to Delhi is the brain-child of Hyatt's executive chef Marin Leuthard. A Swiss national himself, he wanted to encourage friendly get-togethers, be it business meetings or time well spent in the warmth of close ones. Accordingly, The Stammtisch dinner menu has been created keeping the winter season in mind and features local products and seasonal ingredients selected by Chef Leuthard.  The chef's personal favorite is a colourful bowl of freshly chopped Gruyère Cheese Salad followed by a hearty portion of Swiss Raclette served traditionally in winter or a bowl of flavoursome Grison Barley Soup served with farm bread.  All meals are going to be paired with unlimited wine or beer.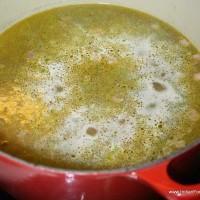 I along with some other select bloggers have been invited to a cooking and tasting session with Chef Leuthard at the kitchen of the Regency Club Lounge. In an interactive cooking session, he takes us through the cooking of Grison Barley Soup, Cheese Spaetzli, Fondue, and Beignet de pommes. We taste the dishes at each stage, and then are seated at the dining table for a family style lunch with these same dishes.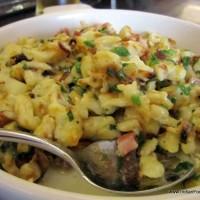 Piping hot and wholesome Grison barley soup is served first. This soup is from Canton Grisons located in the eastern part of Switzerland. Main ingredients are barley, raw ham, leeks and celery. The soup has beautiful aroma and is a great treat in this super chilly weather. Next, we are served Spätzli, a type of dumpling of soft texture found in the cuisines of southern Germany, Alsace, Hungary and Switzerland. These dumplings have been stir-fried with Parma ham, caramelised onions and cheese, and are delicious.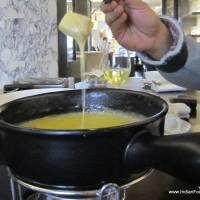 The next dish to be served on the table reminds us, as a fellow blogger puts it, of 'Asterix in Switzerland'. Fondue can be called the national dish of Switzerland and has been promoted as such by the Swiss Cheese Union since the 1930s. It is a dish of melted cheese served in a communal pot (caquelon) over a portable stove (réchaud), and eaten by dipping long-stemmed forks with bread into the cheese. The chef makes our fondue with a 50:50 mix of Emmental and Gruyere cheese cooked with white wine, and finished with Kirsch, a clear, colorless fruit brandy traditionally made from double distillation of morello cherries. It is great fun to dip one's bread into the bubbling caquelon and then, carefully balancing the morsel, pop it in the mouth. The dish is all that a good fondue should be, but I personally would have preferred a dryer wine going into it, which would have made the fondue less sweet-ish.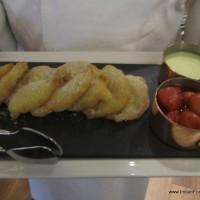 We end the afternoon with Beignet de pommes or apple fritters. These are served on a vanilla sauce and topped with stewed strawberries. It is a pleasant end to an enriching experience.
The Stammtisch dinner table will be featured at Café at Hyatt Regency Delhi every Friday of the month, beginning on 17 January 2014 between 7:00 pm and 11:00 pm.  The price is Rs 1,900 plus taxes per person.