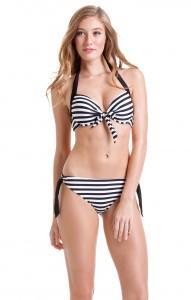 We have a huge selection of bikinis and bathing suits under $20. Discover some of the hottest discount swimsuits you can find online. Like This striped InMocean Bikini for only $12.00
There are some things like four leaf clovers, winning the lottery and having the first bathing suit you try on fit perfectly, that are so incredibly uncommon. Among those rarities is finding quality fashionable women's bathing suits for under twenty dollars. But as unbelievable as it sounds, we at SwimsuitsDirect.com have done just that. In fact we've got about 160 chic well-made swimsuits for less than $20. We're not talking cheap women's bathing suit or cheap swimsuits. We mean quality really low priced women's swimwear.
Saving money is important to every lady's swimwear shopper. It's not hard to spend over $150 on two or even one swimsuit. But whether you're over 40 years old or wearing juniors bikinis the goal is always to spend less on swimsuits for the summer.
So we wanted to share with you a few of those swimsuits for under twenty dollars to help you save on women's swimwear.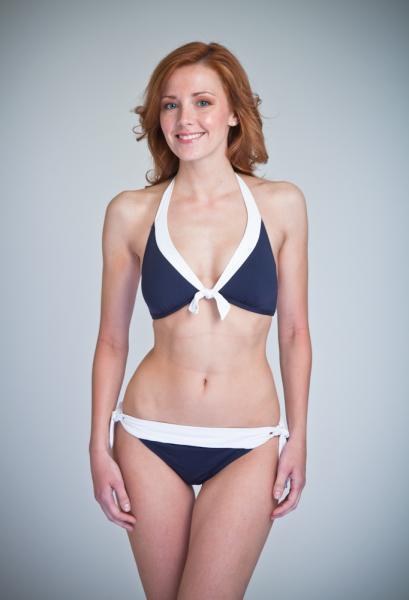 Color Block Bikini by Anne Cole - $19.99
There's no such thing as a cheap Anne Cole bathing suit. The entire swimwear line is made well, elegant and is in such demand finding a bathing suit for under $20 is like catching lightning in a bottle.
This simple sophisticated two piece Anne Cole swimsuit looks great on women anywhere from their teens to 40+ years old. The white trim frames your chest giving you a bustier look and the hip hugging wide waisted side tie bikini bottoms give you a stylish and comfortable fit. It features a lovely bow that really brings together this Anne Cole bikini. You won't find a classy bikini like this for under $20 anywhere but SwimsuitsDirect.com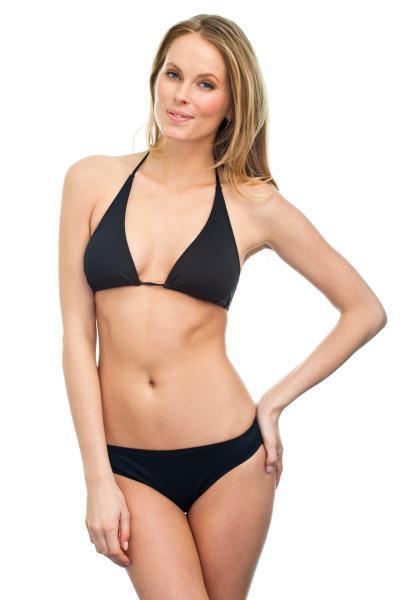 InMocean Rich Slide Halter Bikini - $9.99
A quality bathing suit under twenty dollars is great. But finding one for under $10 is just short of a miracle. But that's what you get from this basic black bikini. There's not too much to say about this two piece swimsuit that you couldn't figure out by looking at the picture but it does come in a variety of colors so you can mix and match your tops and bottoms with ease. And for just ten dollars, why not buy five or six different colored bikinis and have enough two piece combinations to get you through this summer and beyond!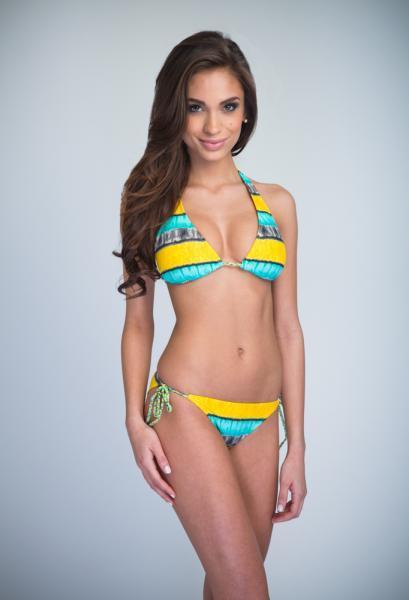 Set It Free Bikini by Island Soul - $16.80
This adorable banded halter top bikini is a must have for your swimwear wardrobe. Especially when you consider how hard it is to find cheap swimwear that's also made well. You'll feel sexy and supported by this juniors bikini. With easy to tie strings this yellow and blue bathing suit adapts to fit your body making you look the best you can in a bikini.
This cute bikini for juniors looks great on young women who want to make a splash at the beach. This two piece swimsuit also comes in a purple and blue banded print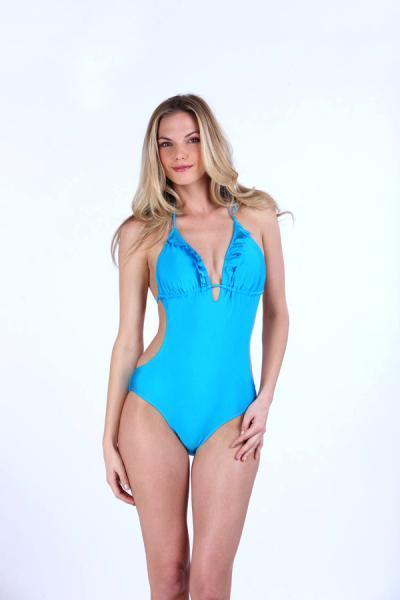 Alice One Piece by InMocean - $17.99
Right now monokinis are very much in swimwear vogue. You'll often see celebrities at the beach donning a monokini to show off their sexy figures. Their price tag often starts well above $100. The Alice One Piece by InMocean lets you mirror this celebrity swimsuit style at a ridiculously low price.
This bright blue one piece monokini looks great on just about every body type as it accentuates your feminine curves. The frills around the cleavage enhance your bust by framing it. For under $20 this swimwear is a steal.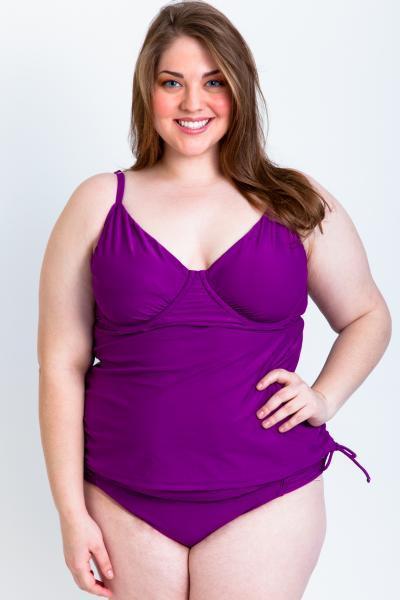 Solids Tankini by Ibiza Plus - $12.99
Fuller figured women often have the hardest time shopping for swimwear that they love. Either the swimsuit isn't flattering or it costs an arm and a leg! Its difficult to find cheap plus size swimwear that's also flattering and well made.
Luckily for you, we've got this purple plus size tankini from Ibiza Plus. This two piece plus sized swimsuit is fashionable, flattering and best of all flattering. Ruching on the tankini top conceals your more troubled areas giving you a slimmer appearance. When stylish plus size bathing suits easily run over $100, swimsuits like this tankini for only $12.99 are a very refreshing breath of summer air.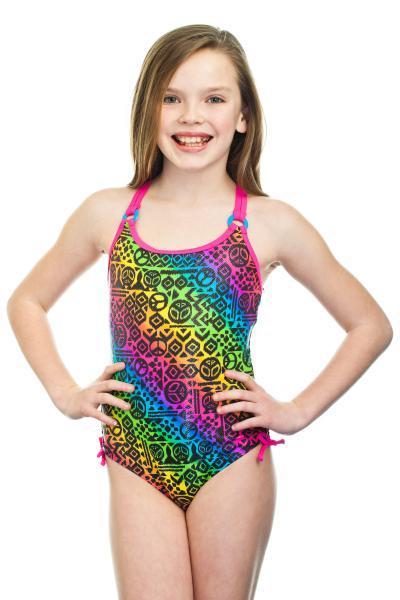 Breaking Waves Ikat Peace One Piece - $14.40
Saving on girls swimsuits is important too. That's why we carry a whole assortment of young girl's bathing suits that you can be sure they'll love at prices you'll love!
This one piece girls swimsuit by breaking waves is a great example. The fun rainbow color and peace sign print make this fun girly bathing suit perfect for your daughter. She'll feel extra stylish with the strappy back design. Best of all this girl's one piece is on sale now!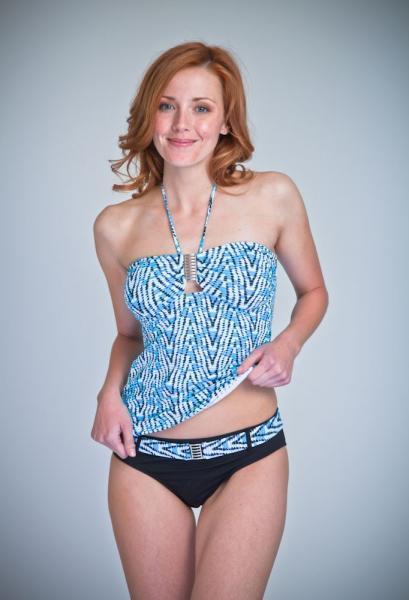 Diamond Snake Tankini by Cole of California
This uber chic women's tankini is just the swimsuit you've been looking for. And as a bathing suit for under twenty dollars its at the price you've been shopping for as well.
With a bandeau top and removable halter string you'll look radiant in this blue and white two piece. This Cole of California tankini features a retro inspired scuba belt and stylish keyhole to show just a hint of cleavage. Trendy women's tankini swimsuits like this don't come around too often and especially not for less than $20.
Desert Bloom Tank Bikini by Island Soul - $14.40
It's not often you'll find a junior bikini with this much style for under 20 bucks. But sure enough Swimsuits Direct has the perfect one for you. The flounce top adds volume to your making your breasts look bigger. The floral bikini top also covers your upper midriff, drawing attention to your stomach making this a great two-piece swimsuit for skinny girls.This adorable bikini features both halter straps and over the shoulder straps so you can wear it either way. Buy this adorable bikini online.
Which swimsuit for under $20 was your favorite? Let us know in the comments below. You can also find hundreds of more bikinis, tankinis and one piece bathing suits for women, juniors, girls and plus sized women all for less than $20 in our under $20 swimwear section.
For even more lovely bathing suits for women be sure to shop online at SwimsuitsDirect.com.