Eager for a fun party? Invite mothers and daughters to model the latest swimwear at a poolside fashion show. Swimsuits Direct takes the challenge out of finding varieties to fit and flatter diverse sizes and shapes.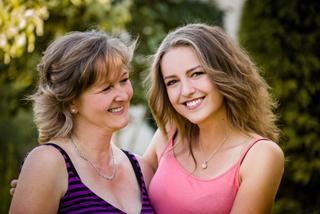 Perfect hourglass forms can wear most styles including tiny string bikinis. But others need to accentuate their best assets and balance any mismatched proportions to achieve the most becoming looks. So we've rounded up figure-favoring tips with corresponding plus-size, women's, and junior options to help moms and teenage girls feel confident while striking their coolest poses.
Tall
Everyone wanting to appear shorter than their towering height must skip vertical lines. Horizontal color bands, however, will shrink lanky limbs into more petite illusions. Avoid high-cut legs that lengthen long statures even further. Low-rise boyshorts or normal-cut bottoms with tankinis or bikini tops can help compress tall frames. This horizontal striped bandeaukini with boyshorts will diminish plus-size women's height. Finish that look with flat shoes like these color-coordinated blue flip-flop sandals. Other sporty footwear options include sneakers and boat shoes.
Busty
This inverted triangle shape features wider shoulders and fuller bust over smaller hips. Playing down the ample torso and highlighting lower curves or legs are key. Higher necklines with generous coverage, slight if any plunges, and no padding minimize prominent chests best. One-piece styles with plainer upper halves and fancier skirted bottoms expand hips and round out backsides. A raised neck and hip flounce help this plus-size one-piece swimsuit with shirred peplum draw focus away from the bust.
For two-piece options, tops with wider straps transform broad shoulders to seem narrower. Boyshorts in light colors or patterns including horizontal stripes and polka dots produce curvier hips. Belt, ruffle, or tie detailing in the waist/hip zone pull attention downward. Creating the impression of a fuller lower section yields a more balanced overall outline.
Hippy
Bigger hips than shoulders and breasts characterize the classic triangular form. Try tankinis that add upper-body dimension with boyshorts for extra backside coverage to hide pronounced rears. Choose designs and colors that even out and complement this shape. A patterned top with a dark, solid bottom will create upward interest and minimize the lower portion. This women's floral tankini with black boyshorts is a perfect example of those principles.
Deep V necklines, prints, sequins, or ruffles make upper areas more noticeable. Strapless, bandeau, tank, and racerback tops broaden shoulders. Underwires and/or padded cups that create fullness and enhance cleavage will emphasize the bustline, instead of the lower region, while equaling out all proportions. High-rise leg cuts offset low-body curves and stretch length to squeeze width.
Thin
Bikinis with conspicuous ornamental details like flounced edging, layered ruffles, gathered trim, raised decorations, or embellished ties augment curves on thin bodies. Volume-boosting ruffles, lettuce edging, and beaded ties exemplify those style elements in this women's fun and frilly yellow bikini.
For smaller busts, look for one- and two-piece suits with triangle tops. Gathered waists can add feminine touches while softening contours. Horizontal stripes will trick the eyes into seeing stunning hourglass figures instead of excessively skinny frames.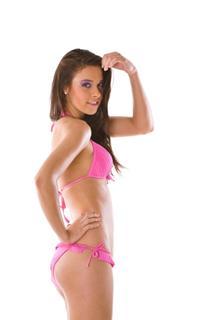 Short
Multiple gimmicks can help diminutive females appear taller. Upright — not sideways lines — promise elongating effects. Choose styles like this junior vertical striped two-piece swimsuit with that favorable pattern. Eyes looking up at chest adornments like bows, frills, beads, or fancy metal details won't notice short limbs. Monokinis and tankinis with high-cut sides between hips and waists will lengthen legs and overall frames. Skip swimwear with skirts and boyshorts that condense petite statures further. Wear heeled sandals to enhance height even more.
Rectangular
Monokinis reveal surprising curves on thick-waisted females with athletic rectangular figures. This junior black crochet monokini features side cutouts that slim down midriffs for leaner looks. One-piece options with belts, ruching that pinches in waists, and strategically placed slashes or cutouts are alternative possibilities to add contours. Trapeze-style, flared-out tankinis disguise larger mid-sections.
Detailed and lightly shaded two-piece swimsuits widen busts and hips for curvier, more feminine silhouettes. To create longer torso lines and emphasize breasts, pair embellished tops featuring flirty ruffles or bows with solid-color bottoms. Strapless styles and plunging necklines turn chests instead of waists into focal points. For small breasts, extras like underwires, push-ups, or padding may be helpful. Side-tie bikini bottoms round out flat rumps nicely.