I signed Avrie up for another swim class, if you remember back in Jan of 2011- I had her in waterbabies as well. This class was a little different for a few reasons.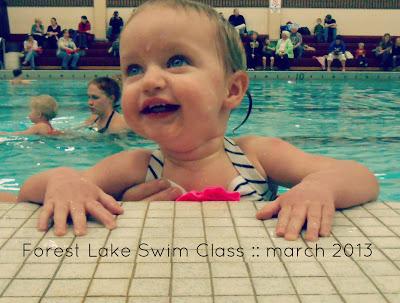 For us, this was a daddy/daughter activity and now every time Avrie talks about swimming she says "daddy swimming in water". Aaron is a fish and plans to teach Avrie the ways of the water. I will teach her the ways of relaxing on the beach, in the sun, with SPF and a good book!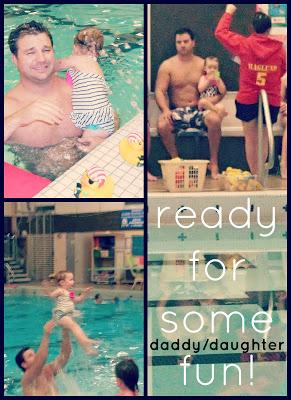 Now with Avrie at the age of 21 months, she was SO much more into the water. Waterbabies was a 10 week session that started when Avrie was only 6 months old. So, this time around she was much more active but still spent some of her water time being her observing little self. Toward the end of the 30 minute class she could be found sitting on the pool edge watching all of the other kids all around the pool.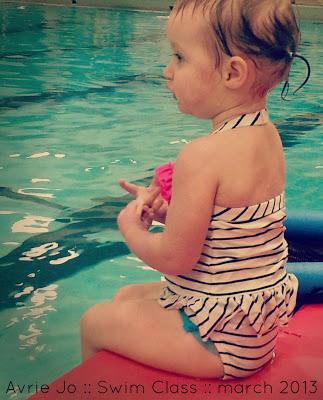 With only Aaron going in the water for class- we had a great system for getting Avrie pool ready and then changing her AFTER pool time. I remember for waterbabies when I would go in the water for class as well... yeah... trying to get dressed QUICK with an infant that you also had to wash up and get dressed was not easy. I think by the 9th or 10th week I had it figured out. This time around, we had it figured out by the 3rd week. ;)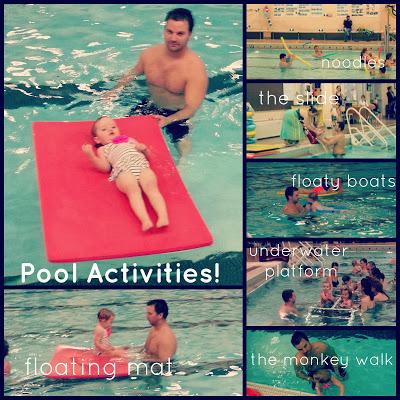 With class all done, we opted to NOT sign up for the next 6 week session. We figure with going to the lake and pool on the weekends at grandma E's all summer long, Avrie will be back in the water soon enough (well maybe not with this LAME spring/winter weather we are having in MN). But soon, sooooooon!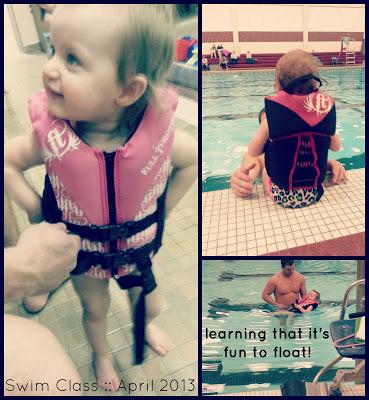 [one class was dedicated to proper life jacket use & safety]
Class was a 6 week session that ended tonight but sadly we had to skip due to Avrie having two very icky & messy diapers about an hour before class. I didn't want to chance it in the pool, in a swimmer, for the sake the other swimmers and for all of us. It was the right thing to do. Avrie ended up being fine the rest of the night, but you just never know! I would have hated to ruin pool time for everyone- ya know!? Avrie's little swim buddy Olivia was nice and picked up Avrie's certificate of swim class completion.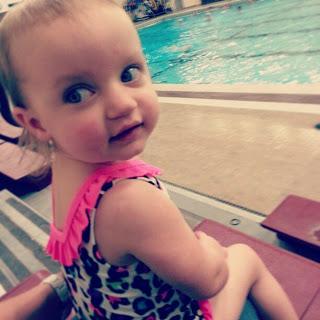 We might have to find some open swim time at a nearby hotel for an afternoon here and there. It was a fun time and we look forward to swim lessons in the next year or two. Avrie will learn to FEAR not the water and be a great swimmer, UNLIKE her Mommy!