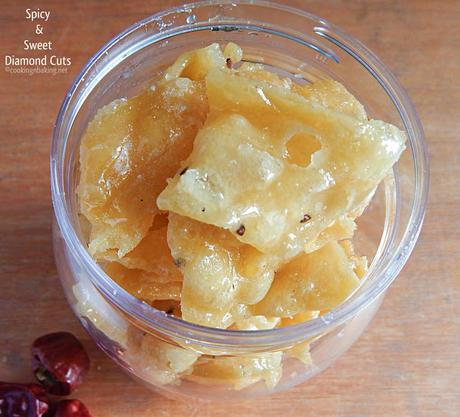 The sweet and spicy diamond cuts are a fusion of the spicy diamond cuts coated with sugar syrup and glazed with honey. As weird it may sound, the taste is so awesome. The sweet burst initially with the spicy crunchy diamond cuts is something you would bookmark as soon as you taste it.

You must be thinking, as there are 2 versions of the diamond cuts already (the savory and sweet) why would I think about a fusion. I will tell you the story about how this happened, before I jump on to the recipe.
I was staying with my friend in Pune after we got placed in a reputed food factory through an on campus placement as food technologist. We were too excited and loved working in our dream food factory. We also had begun to experiment new dishes at our room. We were arguing over some petty issue which ended up in fight. We were not exchanging words or even stares among us for some days.

Me being a chatter box, felt numb without talking to her. Be it my mistake or hers I though I ll take the first move to apologize. We had our own signature dish and I thought I would surprise her. I decided to make the diamond cuts (both versions) as it was her favorite snack. It was my weekly off and she was on shift in factory.
I made the spicy diamond cuts first and placed it aside. Then I began to make dough for the sweet version plus sugar syrup. My professor had called and she kept talking. I was in a hurry to make the diamond cuts, as it was time for her to reach. I began frying the dough kneaded for the sweet diamond cut. I do not know what went through my mind, I saw her walking towards our room and I instantly put the spicy diamond cuts to sugar syrup and toss them well.
When I thought of arranging the platter, I was shocked to see I mixed the spicy diamond cuts to the sugar syrup. I could not do anything more, I just arranged it with coffee. She opened the door and I was like totally blank.
She came in and smiled at me looking at the set table, she picked some diamond cuts and popped them into her mouth. I was ready to get blasted for the mess I created. She came to me and hugged me saying, it was so yum. I was like "Did you like it!". She said that I made a fusion of her favorite diamond cuts especially for her! I then narrated the whole story and we had a hearty laugh.
There after this version is the one we always make.
1 cup all purpose flour (maida)
Warm Water for kneading dough
½ tsp Ginger garlic paste
Sift flour twice and add salt, chilly powder, ginger garlic paste and ajwain.
Add warm water little by little to make a soft dough.
Make equal balls and make thin layers using rolling pin.
Make diamond cuts using a knife.
Deep fry in oil til diamond cuts become crisp.

Make grainy sugar syrup with sugar and water.
Keep stirring till sugar metls and thicken.
Add crispy diamond cuts and toss them well.
(Optional) glaze it with honey before serving.
Came across a similar concept on www.Foodventures.in . I would suggest that if you have you had any such amazing #Foodventures which showcases a combo of Sweet and Spicy fusions then you should share it on this platform.
Infact by doing this, you could get a chance to feature with the celebs who are spearheading this brilliant project - Vir Sanghvi & Vikas Khanna . Go check it out now #FoodVentures brought to you by AxisBank.