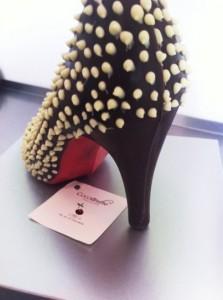 I'd like to direct this post to my husband who needs to take note: I want these high heels made of chocolate next Valentine's Day.  I know we laugh at the holiday and think that the whole thing is silly because, after all, it is like Valentine's Day every day for us (swoon…gag) and we don't even bother exchanging cards.   However, it may be a combination the serious PMS I am experiencing at this very moment combined with the fabulous fashion statement and the pure deliciousness that these chocolate high heels make, that is making me want to lick my screen right now.  God, what I wouldn't do to bite into the heel of that shoe.  Although, they are almost too pretty to eat.
These high heels made of chocolate have a designer sole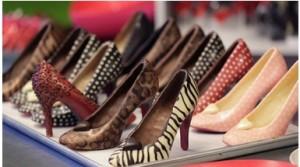 Okay, back to reality.  What a fabulous idea created by Dallas chocolatier, Andrea Pedraza, propieter of
CocoAndre
, who took her passion for shoes and created this chocolate creation.  And, look, they even have red soled bottoms, inspired by Christian Louboutin.  Gee, I wonder if he going to try to sue her now
too
.
No surprise, men are the number one buyers of these shoes…as gifts, obviously.  CocoAndre is a clear life saver for the last minute Valentine's Day shopper looking for something unique and special to give their love, especially if they are a shoe lover.  You don't even have to wait on line for them either.  Orders can be placed ahead of time and they even ship the shoes.  I heard that the folks at CocoAndre are up to their elbows in chocolate right up to the last minute on the eve of Valentine's Day.  I'm not surprised by this, men are notoriously last minute about gifts.  Prices for these chocolate heels range from $35-$55.
To learn more, watch the video and tell me what you think. Would you like a pair of high heels made of chocolate?