Internet is such a unique and wonderful world. I'm pretty sure most of us got to know at least one new person using chat boards and/or forums. Over the years I met and got to know wonderful people out there.  On the other hand this online world had its downs. For the last couple of months I received several messages that made me raise my eyebrow.If you read me for a while you know I'm not a big tweeter or facebooker (don't think that's a word). I simply don't have the time to do that. I learned how to tweet after reading
this post
(Thanks Kim) and still don't know how Facebook works. (I'd appreciate if someone took the time to explain it to me). Lately I received some messages, some from other twitters, some from fellow bloggers. Most of the messages are about following and of course stop following. Is there a prize if you reach a certain amount of followers? I follow a handful of people and their blogs (even tho time doesn't allow me to leave comments for every post) but never asked them to follow back. I read them because I WANT to not because I HAVE to.
Yesterday I received a weird email. A fellow blogger from France, whom I've never corresponded with,  was asking me to send a photo and more details about me since she'd like to know me better. Due to obvious security concerns my preference is not to send any photos and personal details to people I just met.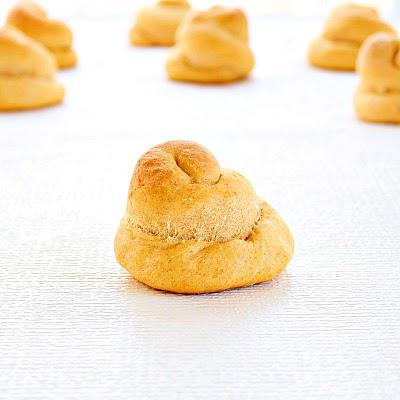 Oh yeah, I promised you some sweet potato rolls. I've been meaning to make these rolls for weeks, even ate the potatoes twice :)) . Today finally the day came.  They look pretty, don't they? Since we all slept in late today I didn't start taking all the ingredients out of the fridge/pantry by 10.30. I used whole milk only, forgot to buy buttermilk. With the recipe in front on me I started my proofing the yeast, mixing milk with potatoes, measure the flour and shortly after that all the ingredients were mixing together in my stand up mixer. Suddenly I hear my husband: Get ready, we're going out for lunch. What ?!! I'm making bread !!!With oiled hands took the sticky dough from the mixer's bowl and placed it in a greased bowl, cover with plastic wrap and put it in the fridge to prevent it from raising before I was back home. Now, by the time we got ready, went out, enjoyed lunch in company of friends and return home my dough tripled in volume in the fridge. OMG!!Punch it down, change clothes, shape rolls and pray.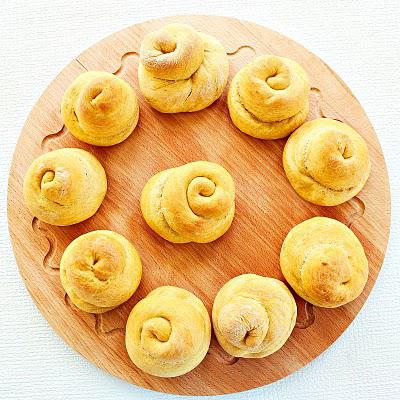 I only made half of the recipe and divided it into 12 rolls, baked at 350F for 25 minutes. To everyone surprise they turned out so good. I wish I made the entire recipe. There's always tomorrow, right? I've made before potato bread but this is the first time I'm using sweet potatoes in bread. If you love making bread and like to try different recipes, try this one. You're not going to feel sorry. It's soft, fluffy, lightly sweet and the flavor of sweet potatoes is not overwhelming.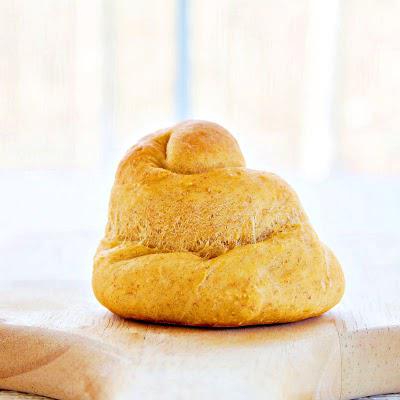 To get the recipe you have to visit my friend
Dionne's blog
. 
Sweet Potato Breead
If you don't know Dionne, you're missing a lot. She's a wonderful person, she tells good stories, she's funny, a great cook and baker and always makes me smile. Every Monday I'm looking forward to see what new bread recipe she's talking about. Her photos make you rush in the kitchen and start baking.
Thank you
Dionne
!!