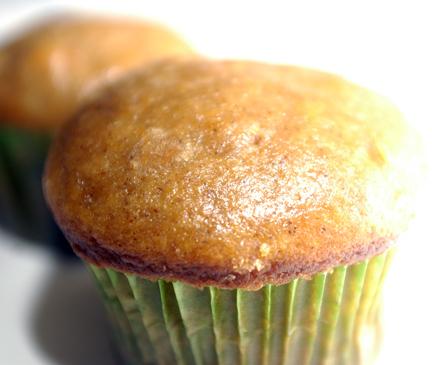 I didn't make this delectable sweet potato muffin — my sister-in-law did!  But we really enjoyed noshing on them during our travel and also for breakfast.   It is a good way to use up leftover sweet potatoes from Thanksgiving. The recipe can be found here.  The ones my sister-in-law made are sans pecans because of tree nut allergies in the family, and my photo skills aren't as good as Lyuba's, but these muffins were very tasty!
While away in Illinois visiting my family, I was invited to participate in an episode of Impractical Jokers which airs on TruTV. I wasn't familiar with the show, but after seeing a few clips on YouTube, I thought it would be fun, so I said I would do it.  It's kind of like a version of Candid Camera, but revolves around four friends who "punish" each other and make them interact with unsuspecting people in embarrassing situations.  This afternoon they filmed an episode  at the Brooklyn Children's Museum.  I appeared as myself and read Soup Day, Hush Little Monster, and Truck Stop to a group of children.  I don't want to give anything else away — the episode will air in the spring, and I'll post about it (if I'm not too embarrassed by my "performance"!)  It was a random but really fun experience, and Jamie and Denis were in the audience supporting me.  :)
Here is another something I've been enjoying on cold winter days.  It's deeply satisfying and holds me all morning.
In the fall I bought some silicon muffin liners thinking I would use them for Jamie's bento lunches.  Let's just say:  "That ship has sailed."  Instead, I've been using them for baking and cooking these egg cups.   You could probably bake these straight up in a muffin pan without the muffin liners, but I haven't tried this since I had the silicon ones on hand.  You just layer some deli meat on the bottom (I used TJ Black Forest Ham), crack an egg in there, and bake at 400 F for about 10-15 minutes, depending on how hard you like your yolks.   I had some leftover pesto that I added here, but it is delicious without as well.  Two egg cups for breakfast serve me well.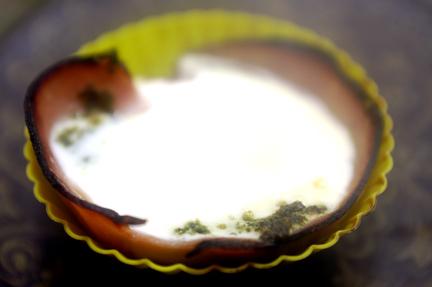 Baked Egg Cups
a couple of slices of deli ham or turkey or other thin sliced meat
1 egg
pesto or other topping you'd like to add– shredded cheese, would probably be yummy — or diced cooked vegetables and  Sriacha or salsa!
1.  Preheat oven to 400F
2.  Line muffin tin or muffin liners with meat.  Crack egg in  center.  Add toppings.  Bake for about 10-15 minutes, checking after 10 minutes to see if it is to your liking.