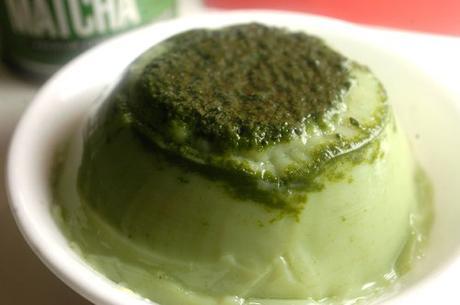 Recently, we received lovely birthday cards from my friend, Tomoko, who lives in Japan. I met her at the Prefectural Offices of Iwate where I used to work when I was in the JET Program from 1989-1991!
Since 1987, the JET Program has sent over 60,000 people from different countries to work in Japan (mainly as teachers). I'm so happy for and proud of my nephew, Nick, who recently was accepted into the program and will be teaching English in Kyoto starting this fall! I made so many lifelong friends during my experience there, as I'm sure he will! For more information on JET, click here.
In her card, Tomoko mentioned that she hadn't seen me for awhile here, and she was worried! (I'm sorry, Tomoko!) As some of you may know, I've been dealing with an arm injury from last fall. I'm almost back to normal, but I'm so behind in work, I'm just trying to catch up and keep afloat! I recently wrote a long post on my website about how I tore my elbow tendons and what I'm doing to heal…
Long story short, for months, I couldn't do much with my right hand, including work. But it was difficult to do basic things like open doors, and type, and use my phone. The camera I use for this cooking blog is a large Canon with a flash, and I wasn't able to use it without stressing my arm. (The last post I did, I used photos taken with my phone, but they aren't that great…!) Thus, the extended hiatus…
My son is now on summer break, and one of our at-home projects is for him to learn the Japanese syllabary (hiragana and katakana) and some Kanji by the time he starts his first Japanese class in the fall. Right now, we are just working on recognition and pronunciation. Later we'll focus on writing. I'm also teaching him some simple Japanese using Japanese children's books (they are so great because they are written in all hiragana, using simple vocabulary!) And we are enjoying this cool series on Netflix, called Japanese Style Originator, which we love!! It's all about food, culture, and craftsmanship in Japan. Recently we saw a dessert in an episode about sushi that inspired him to request that we make Matcha Pudding together.
I found a great recipe for a gelatin based one at washoku.guide which will, unfortunately be taken down on the 29th! I was so sad to discover this site right as it's about to disappear forever. There are so many wonderful Japanese recipes there! Go visit if you can before the 29th!
To make this easy pudding, all you do is dissolve 5 g of unflavored gelatin in water. Heat the milk in the microwave. Then add matcha powder and sugar and the gelatin and stir until dissolved.  Pour into dishes and chill.
The next time we make this, I will instead dissolve the sifted matcha powder in a bit of hot milk first. Then when it is completely dissolved, I will mix it with the rest of the milk. We were in such a hurry this time, we dumped everything in all at once, and it was a bit clumpy.
This is what it looks like after chilling: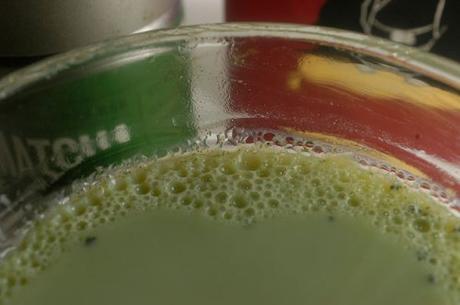 I traced the edges with a sharp knife and then set the ramekin of pudding in a bowl of steaming hot water for about 15 seconds. Then I covered it with a dish and turned over to remove and invert the jiggly mass of goodness.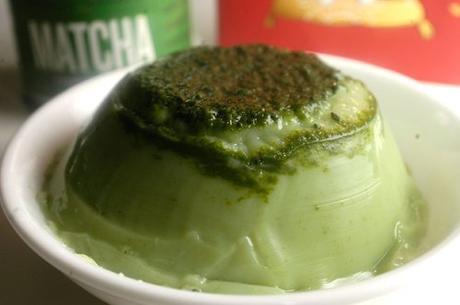 Our pudding doesn't have a smooth jade-like top because we didn't mix the matcha well enough. But it was still soooooo good! I used Jade Leaf Matcha, and the flavor was exquisite. If you love matcha as we do, you will love this easy pudding!
Matcha Pudding (From washoku.guide with some alterations):
5 g unflavored gelatin
2 tablespoons water
300 ml milk
1-2 tablespoon matcha powder
50g sugar
Dissolve gelatin in a small dish with the water.
Heat the milk in the microwave for about two minutes.
Sift the matcha into another small dish. Add about a tablespoon of the hot milk into the matcha, whisking continuously until completely dissolved. Then add this mixture to the rest of the milk.
Add the sugar and stir until dissolved.
Transfer mixture to three small ramekins. Chill overnight until firm.
To serve, run a sharp knife around edge of pudding to loosen. Set ramekin in a larger bowl of very hot water for about 15 seconds. Then cover with a serving dish and invert pudding on top of it.
Makes three servings.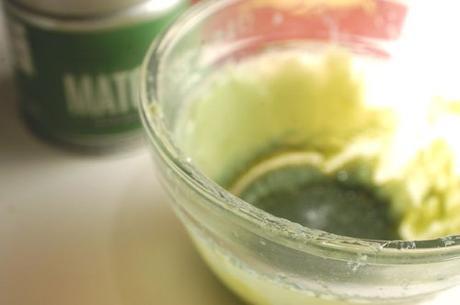 After inverting…. 
Advertisements