I have moved.
Most of the boxes are unpacked.  I've found a dry cleaner, cobbler, and a gym (CrossFit Salem!).  I have a library card.   I joined a book club.  On a walk in my hood, I can hit up the "natural foods" store up the street with kambucha on tap!  Local Willamette Valley wines have been sampled and yes, purchased.  I even established my "donor" status for A+ blood at the Red Cross of the Salem Area.
And, I've tried a restaurant or two.  Actually, I've tried two (three?) of the same restaurants.  What can I say?  I like consistency!
Venti's has one location downtown with an upstairs cafe and a downstairs "cafe-bar."  I visited the bar with Paul on Halloween – wearing my "flapper" costume complete with the sequined hair piece.  It was cozy.  Lots of rooster decor, by the way.  I visited the cafe the next week for lunch with a new friend/co-worker.  We ended up 30 minutes late to work… oops.  Last week, I visited the newest location – the taphouse, which is actually  just up the street from the natural foods store!  Yes, that means walking distance.
Paul likes the place because they have rotating beers on tap — something like 20 types?  They are on huge screens around the restaurant.  I like the place because the food is tasty – even if the portions are a little on the small side.
One of their salads was an arugula sweet potato salad.  Despite Marie's voice of reservation in my head, I ordered it confidently.  I was pleased with everything but the size.  Paul and I actually ordered another entree to share (he had already ordered the Salmon Sandwich).
I took some inspiration from the meal and my half-full belly and made some of my own.  I took it to book club last night and served myself a "Karen" proportion.  Now, we know what to have on hand when the President is in town!
Sweet Potato Arugula Salad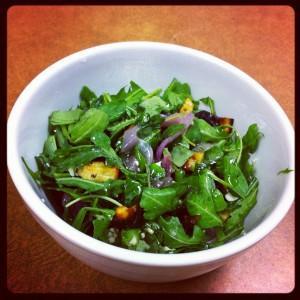 Print
Prep time 10 mins Cook time 30 mins Total time 40 mins   heart sweet potatoes married with fresh green arugula Author:
Karen Clevering
Recipe type:
salad
Cuisine:
NW Fresh
Serves:
4-5
Ingredients
Dressing:
¾ cup of oil
½ cup of apple cider vinegar
2-3 TB of honey
2-3 TB of minced garlic
sea salt and pepper to taste.
Salad:
large red onion, cut into thin rings
large sweet potato, peeled and cut to bite size pieces
5oz or so of arugula
⅓ cup of feta or parmesan cheese
olive oil
salt
½ to 1 tsp of sage or other savory spice
Instructions
For the dressing, whisk all the ingredients together and set aside.
For the salad:
Caramelize the red onion but heating at a low heat in a skillet with 2-3 tsp of olive oil for 30-40 minutes, stirring occasionally
Heat oven to 425 and toss the sweet potatoes in spices and spread on baking sheet. Bake for 20 to 30 minutes, stirring every 10 minutes. The potatoes should be sweet and just slightly crispy. I also like to spread the baking sheet with foil because it makes clean up a lot easier.
Toss the onions, sweet potatoes, arugula and cheese together.
Dress it up as you desire!
3.1.09