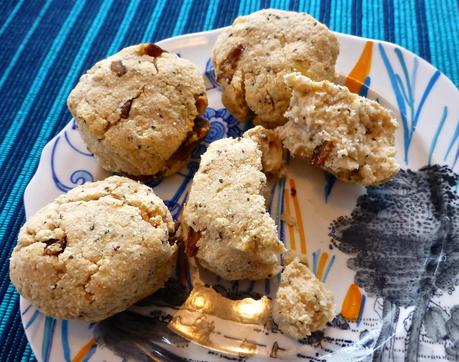 If you don't eat dairy I suggest you stop reading now! These little biscuits contain cheddar cheese, and I know that some of you strictly avoid dairy products so unfortunately these aren't for you. But for those of you who do occasionally include dairy in your diet please keep reading!
I for one only rarely have dairy. Before making these it had probably been 6 months since I had had any (so yes when I say rarely I really mean it!). And when I do eat dairy, it is in the form of organic, unpasteurized, lactose free cheese. If we could get raw dairy here in Calgary I would be all over that… but for now this is as good as it gets! I know some of you in other places have an easier time getting access to raw dairy products so if you do take full advantage and use some for this recipe!
I taste tested these little guys on the boyfriend and I think his direct quote was "I don't think any gluten free biscuits could get better than these." So hopefully you agree! The texture is definitely different that a traditional gluten containing biscuit so if that is what you are used to it may take a few biscuits before you adjust. But the health benefits are worth it! Trust me. And for those of you that don't tolerate nuts or are trying to limit nut flours you will be happy that these are made solely with coconut flour. Yay! 
Sweet and Savoury Apple Cheddar Biscuits (SCD, Nut free, Coconut flour) 
Ingredients
2 cups shredded apples (I used 4 small Pink Lady apples but any sweet apple should do) 1/4 cup coconut oil1/4 cup grassfed butter or ghee1 cup grated cheddar cheese (raw, unpasteurized and lactose free preferably) 2 TBSP pureed onion
1 cup coconut flour 1 tsp organic vanilla extract1/2 tsp aluminum free baking soda1 tsp dried basilpinch sea saltOptional: 4 pieces of bacon, broken into pieces (highly recommended!)
Optional: 1 egg (I don't tolerate eggs but this will help the dough stick a little better) 
Directions
1. Peel and core apples. Then grate them or place in a food processor to shred
2. Transfer shredded apples to large microwave proof bowl and add coconut oil and butter/ghee
3. Heat apples and fat on high for 1-2 minutes (until oil is melted) and stir well
4. Puree enough onion in your food processor to yield 2 TBSP and transfer to bowl
5. Add the rest of your ingredients and mix well with a pastry blender
6. Preheat your oven to 350F
7. Place a sheet of wax paper on a baking sheet or tray
8. Form 2 inch sized biscuits with your hands and place on baking sheet (see photos below).
** HINT: wet your hands between each biscuit to form them easier and add a bit more moisture
9. Place your baking sheet in the oven and bake for 17- 18 minutes (until edges just start to turn brown)
10. Remove from oven and allow the biscuits to cool. Use a metal spatula to remove from wax paper
** NOTE: Let these cool completely before eating. They retain the moisture better as they sit so if you try eating them right away you will end up with a crumbly mess!
Recipe yields: 13 biscuits
These keep really well in the fridge. I actually like them better after they have sat for a day in the fridge. I feel like the flavours are brought out by sitting longer…but maybe thats just me!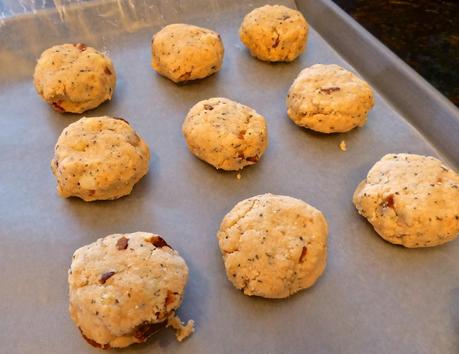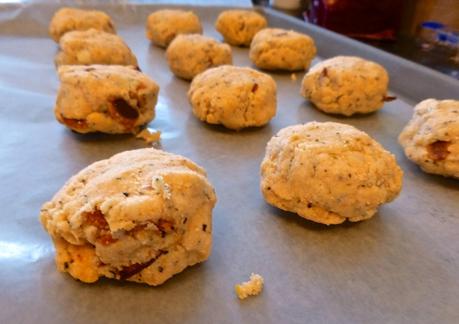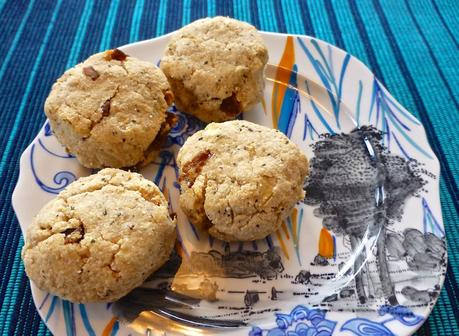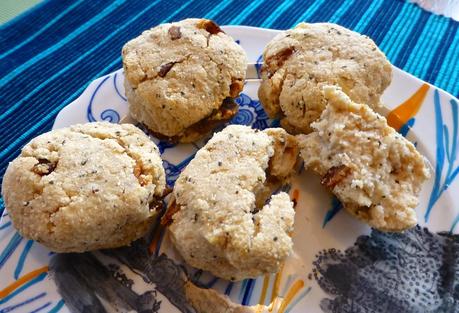 Enjoy everyone! And have a good weekend! Let me know what you think of these if you try them!
And as always please feel free to contact me with any questions!
Oh and I created a Facebook page just for my blog. You can find it here:
Facebook