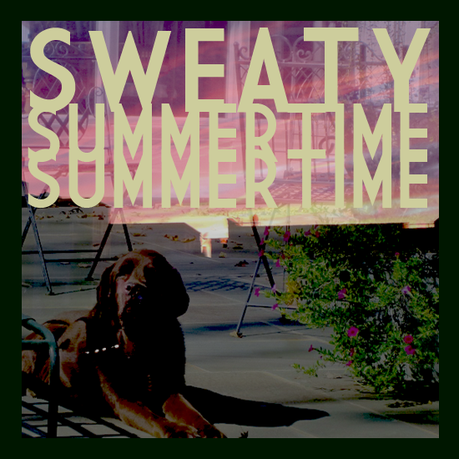 Summer time is really in full swing! With the oppressive heat also come things like BBQs, beaches, picnics and summer jams. We made a playlist of some of our favorite summer music, the songs to cook burgers too, to swim to, and to make out under the bleachers to (summer turns us all into 15 year olds again, it's a scientific fact).  We've done you the service of creating a YouTube playlist for continual listening and posted all the legal MP3s we could.
1. "On Land" – TV Girl
We've started the playlist off with one of the lesser known tracks, TV Girl's irresistible "Oh Land".  It takes about 30 seconds to fall in love with the tracks' mix of "oohs", weird chirps, and effected vocals.
2. "California Sunrise" – Dirty Gold – Free Download
This San Diego band has sunshine and sand in their blood.  Try "California Sunrise" out for size.
3. "Go Outside" – Cults
Dreamy female vocals, light twinkling sound, reverb that kind of makes the song sound like a wave, a chorus about wanting to go outside… Yeah, this is probably the perfect summer song.
4. "Pumped Up Kicks" - Foster the People
With a killer hook and an even more killer bass line this song practically dares you not to dance. It is contagious and probably the most quintessentially summer jam in a long, long while.
5. "Summer's Cauldron" - XTC
Yes, this was released in the 80s, but it is not summer to me until I hear the crickets and orchestral sounds of this titan of summer songs. XTC gets it absolutely right with the line, "please don't let me out, this is how I would want to go."
6. "Blue Star" – Seapony – Free Download
Perfect summer song led by fuzzed out female vocals.
7. "The Start of Something" – Voxtrot
For the lucky ones out there, summer means summer love and this songs sums that feeling up pretty well.
8. "Lights Turned On" - Childish Gambino
Swagger, humor and a thumping euro-trash finale this song will not only get everyone dancing, it will probably get them all making out too.
9. "Boyfriend" - Best Coast
Summer love totally blows, don't let anyone tell you differently. Shit is the worst. Luckily, Best Coast wrote a song for you to alternatively mope too (he's not her boyfriend in the song) or, you know, make out to in the grass during a BBQ.
10. "For The Price Of A Cup Of Tea" – Belle & Sebastian
What would a summer playlist be without a Belle & Sebastian song?  Shit.  That's what.
11. "Cala Cola" – The Smiles
Cali band The Smiles released an EP last year that's become my quintessential summah-time jam.  This is the best track on the album.
12. "Ice Cream" - Battles
Yes, it's called "Ice Cream", but other than that it is a pretty interesting up tempo almost pop number from the experimentalists of Battles. The rhythms, while still interesting and idiosyncratic, are easy to bob along to and Battles will give you that intellectual cred so necessary at parties.
13. "Up Up Up" - Givers – Free Download
It's peppy and optimistic and has the added bonus of a sultry female lead. I think the xylophone is what really makes this a great summer jam.
14. "We Own the Sky" - M83
M83 traffics in giant atmospheric sounds, the kind that are perfect to listen to with the windows rolled down. This song in particular simply bursts with youthful joy and naivety, which is exactly what summer is for.
15. "Bizness" - tUnE-yArDs
The thumping beat coupled with a funk bass line is enough to make this one of the more interesting and pleasing summer songs in a while, but it's Merrill Garbus' incredible one of a kind voice that really makes this song.
16. "East Harlem" - Beirut
Maybe it's the ukelele's association with Hawaii, but it's probably the most summer-y instrument of all time. And maybe it's my association with the summer that I only listened to The Flying Cup, but Zach Condon's smooth, soothing voice is also one of the summery-est things this side of vodka-infused watermelon.
17. "M79″ – Vampire Weekend
And rounding out the list is, of course, Vampire Weekend.  You can talk as much "selling out" smack as your want, but their 2008 debut album was one of the best summer albums of last decade.  "M79″ is one of the more underrated tracks on that album.