On the weekend I finally managed to visit Swayambhunath, an ancient Buddhist monastery and UNESCO word heritage sight. We had gone to visit A dai whose house was nearby, so all three of us walked up the the hill and climbed the many steps to the beautiful stupa. There were many stairs to climb and even more monkeys and stray dogs littering our pathway to the top. Swayambhunath is also known as Monkey Temple due to the huge amount of monkeys roaming around the grounds.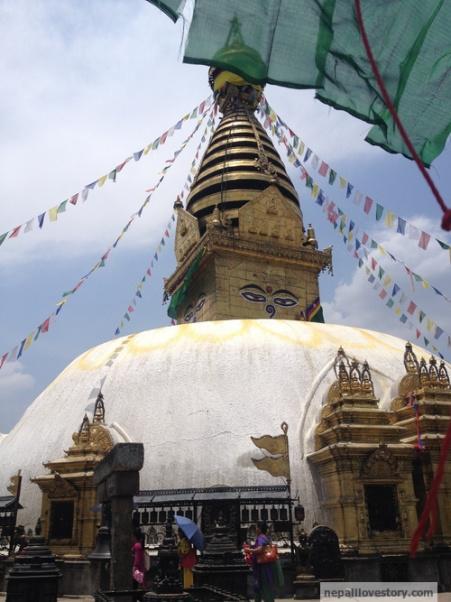 As we climbed higher the monkeys started to become more brave, staring us in the eye and running past us. I was in awe at how close they were to us and smiled at the little red faced monkey. When all of a sudden, the monkey jumped at us! M, who I had always looked at as the one who would protect me, swiftly let go off my hand, ran behind me and even thrust me forward to take the brunt of (what felt like) the savage monkey attack. By this time the monkey was on top of A dai and had found its prize; an empty mango juice carton that M had crammed in A dai's pocket earlier. A dai and I are still recovering from him being set up and myself being used as a human shield – next time we know just to save ourselves!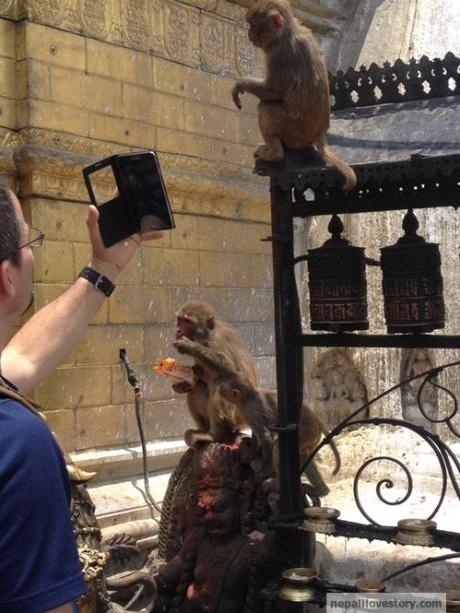 On arriving at the top we found out that I would need to pay an entrance fee in accordance with the notorious Nepali tourist pricing system: free for all Nepalis, a reduced price for other neighboring Asian countries and about 4x as much for any other 'foreigner'. Fortunately, M told the guard I was his wife and held a Nepali passport (small white lie) so I was allowed to slip through unnoticed. At the top it was very beautiful and peaceful. The air was filled with the smell of incense and local raksi alcohol being offered as puja religious ceremony this was accompanied by the sound of chanting and singing. Swayambunath also hosted spectacular views of around Kathmandu which we luckily were able to see as the day was so clear.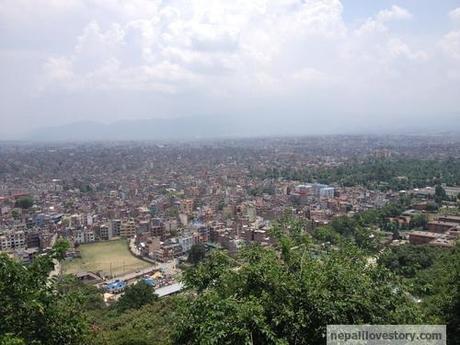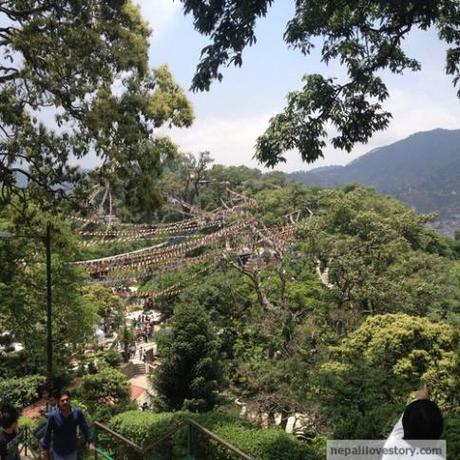 It did not take us long to absorb what the stupa had to offer. There is a small selection of cafes and eating places that help to draw your time out a bit more;  also, not to mention the amount of stalls and little markets that have taken residency at the top of the hill and around the stupa. They were all selling the many tourist things you can find everywhere else in Nepal but I did enjoy looking at the singing bowls even if I had no intention of spending any money. The stupa is definitely worth a visit if you come to Nepal but make sure you have plenty of other activities planned out as it will not take you long to visit. But most importantly, rid yourself of any plastic bags, bottles or in fact anything that isn't in a zipped bag unless you want to encounter the local monkeys first hand.