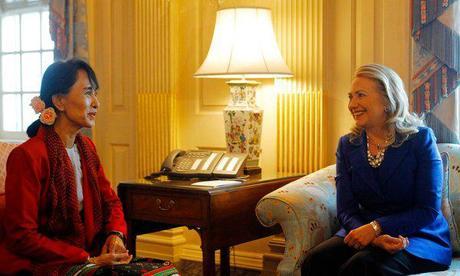 Aung San Suu Kyi with Secretary of State Hillary Clinton (Photo: Gary Cameron/Reuters)
Burma took an unprecedented step toward true, representative democracy during its elections last April. Most notably, the National League for Democracy took the majority of seats in Parliament. The NLD, headed by headed by Nobel Laureate Aung San Suu Kyi, advocates a non-violent movement towards multiparty democracy in Burma, supports human rights (including broad-based freedom of speech), the rule of law, and national reconciliation. This week, Suu Kyi has venured to Washington, DC to meet with U.S. Secretary of State Hillary Clinton, speak at an award ceremony by the National Endowment for Democracy, and receive her long-delayed Congressional Gold Medal, which she was awarded in absentia in 2008 while under house arrest.
Since the April elections, the Burmese government has made all the right gestures and said all the right things about embarking on a new democratic path for the country. What remains to be seen is whether these promises come to fruition. In the latest Economic Reform Feature Service article, CIPE Asia Program Officer John Morrell takes a look at Burma's institutional environment and discusses what changes are necessary to sustain successful democratic change.
Article at a glance:
Burma's transition to democracy will prove unsustainable without substantive changes to the country's political, administrative, and economic institutions.
Economic growth must be widespread and economic opportunities arise for more than the well-connected few if democracy is to succeed in Burma.
The Burmese government and its partners in the international development community must prioritize the development of durable, reliable and politically independent institutions.