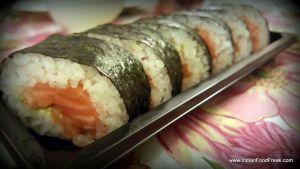 Used to fiery spices, rich colours and strong flavours of Indian food, it is a challenging task for anyone trying to appeal to such a vibrant Indian palate by promoting a minimalist cuisine that emphasizes on freshness, subtle flavours drawn from the ingredients themselves. Sushi Junction, a new set up doing only home delivery of authentic premium sushi rolls and other Japanese dishes has set forth on that audacious journey and it looks like its clipping at a comfortable pace at that.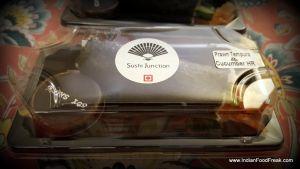 Cleanliness, efficiency and art are bywords of anything Japanese. Placing the order on their clean, user friendly website was a breeze. (Phone-in option is also available.) Attractive photos with clearly delineated descriptions of dishes, optional delivery time, money change required for various denominations of notes...looks like they thought of every detail except one. There was no option for credit card payment, which would have made the transactions, cashless and convenient.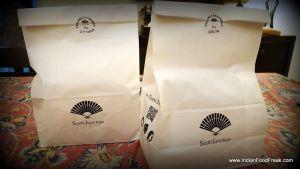 The food came in pristine paper bags, neatly presented in plastic boxes, better to retain the moisture in the rice, with accessories like chopsticks, fork etc. all placed in paper pouches. The overall impression was of class, precision, neatness, beauty of form and style. Sushi Junction believes in "food should not merely taste good, but it should also look good"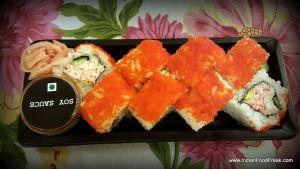 California rolls came medium sized, a delightful eyeful and mouthful. The burst of textures- succulent pearls of roe, juicy crabstick, crunchy cucumber, smooth avocado, was appealing. Salmon avocado (large), came jumbo sized with both ingredients fresh and buttery. The rice and the nori sheet were just rightly moist, making biting into the roll, a pleasure and non-messy. Japanese Chicken Curry was devoured in a jiffy. The crumb fried chicken breast was crispy while the taste of curry brought the aromatic, crowd favourite flavour of Maggi masala /curry to mind. Did you know that the largest selling curry in the world is Japanese?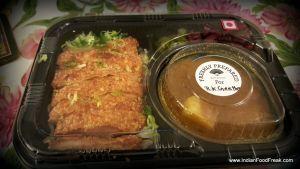 Yet again, the home train had stopped at Sushi Junction, this time for Red dragon (medium) and Tuna (small sized). The former came crunchy(prawn) with a viscous, sweet Kabayaki sauce and the latter with the simple soy. Both delectable. Kid who is yet to develop a sushi palate, loved the Karaage fried Chicken. With a spicy spike in the otherwise mellow mayonnaise, the fried bits were very tasty. Kimchi chicken rice was so good that I placed a second order of both Karaage chicken and Kimchi rice for kid. Delivery was before time, the black tray-cum-boxes accentuating the colours of the sushi. Spicy Tuna (medium)came with spicy mayonnaise, which was one of the oft-repeated rolls in my orders.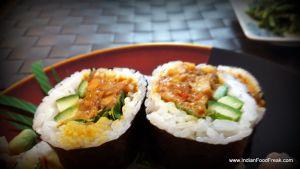 In a first perhaps, Sushi Junction offers substantial choices in deference to the vegetarians with popular ones like California rolls and many more in vegetarian versions. For the adventurous, they have fusion " Local" rolls like Kidney Bean Curry sauce (Rajma) and Pan seared Cottage cheese (Paneer). Rolls come in large ( Futomaki), medium ( Hosamaki) and small ( Chumaki) sizes.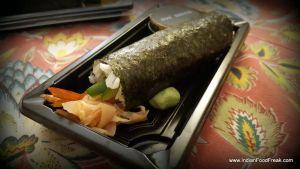 I have ordered from Sushi Junction several times since and the experience in terms of delivery and food quality has always been exceptional. No short cuts were practiced; twice I was called to request to change my order as the ingredient, avocado, was not ripe enough to be used in the rolls. Sushi rolls are categorized into Authentic, International and Local to appeal to not just evolved palates of sushi aficionados but also ease gently that of novices to unexplored gastronomy. Party specials, kids specials, sushi appreciation classes are tailored by Sushi Junction in such a manner that no section of the culinary demography is ignored or left unaddressed.
Try sushi at Sushi Junction and discover that it is a mere alphabet that separates " Kushi " (Joy in the Hindi language) from it.
Ratings (Out of 5)
Food: 5.0 | Ease of ordering and delivery: 4.5 | Overall: 5.0
Category: Home-delivery, Japanese
Timings: 11.00 am - 10.00 pm | Meal for two: Rs.1300-2000/++ | Delivery area: Gurgaon (extended areas coming up soon)
Address: Gurgaon | Tel: +91 124 4251950 | Website:
www.sushijunction.com
(Disclosure: This review was done after repeated orders of home delivery placed anonymously with food paid for by the reviewer in full)