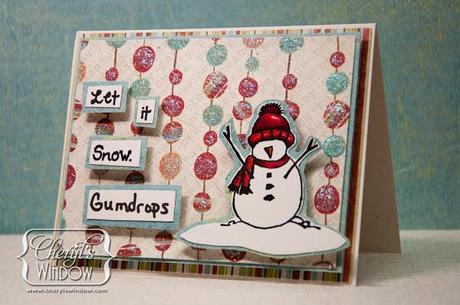 Oh, we are so very excited you joined us for our first ever Susan K Weckesser Design Team Blog Hop with Unity Stamp Design Team! I am the last stop, so you should have arrived here from Thienly Azim's blog. If you did not, make sure you look below to see the line-up and start at the beginning because you do not want to miss out.
If you are not already a follower/subscriber, we would love for you to join our families and follow our blogs as well as stay up-to-date by Liking us on Facebook:
During this 2-day hop, I hope you were inspired and in awe of all the fabulous creations shared by members of these two talented design teams. Both teams shared Simple Christmas Card Ideas using Unity Stamps designed by Susan K Weckesser Inc. It's not too late for Christmas Cards. According to the US Postal service, if you mail your holiday cards by December 20, they will arrive by December 25th! And, this will give you a chance to also join in the Christmas Love Campaign.
I kept my card above simple as an A2 card with basic layers and a little stamping. I used One of a kind Winter stamp designed by Susan K Weckesser and co-branded with Unity Stamp Co. I loved the sentiment that came with the snowman saying "Let it Snow", but I expanded on it by writing 'gumdrops' using a Faber-Castell PITT Pen. I colored the snowman's scarf and hat with Copic markers to give a little color and had to blend YR09 with R37 to get a coordinating warm red. I used R39 for some depth.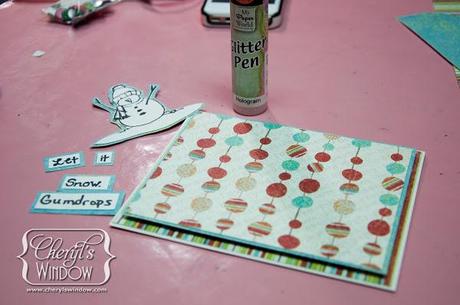 To dress up my card, I used Viva Décor Glitter pen in holographic to make my 'gumdrop snow'. It really added some sparkle as you can see in the finished photo above.  So, there you go – a simple and easy Christmas card you can make in minutes.
If you want to play with this snowman or any of Susan's stamps, they are on sale now at Unity Stamp Co for 50% off in celebration of our hop. However, you could also win a great collection.
We are giving away two chances to win an amazing prize package containing a generous variety of Susan K Weckesser stamps co-branded with Unity Stamps.
For a chance to win, visit each blog below and leave a comment. Then come back on Dec 3 at 6 PM CST to find out if you are a winner at Susan K Weckesser Inc and Unity Stamp Co blogs.
Here is the blog hop order:
Day 1 – November 29th
Day 2 – November 30th
Thanks for stopping by,