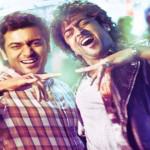 Hero Surya and music director Harris Jayaraj have had many albums together(6) and some(3) of them have been not just hugely successful but have become classics over the years. But all that was in the beginning, in the last three albums it has come down to just few singles. Especially the last album in their combination was a big disappointment with just a song being good.
Brothers, is the new album in their combination with director being KV Anand. Their last album together was Ayan (Veedokkade in Telugu). Let's see if Brothers joins the list of earlier phase or is a continuation of the present form.
The album begins on a high note with Rendai Thirige and Rani Nanni. They are typical Harris Jayaraj numbers but nonetheless have the foot tapping arrangement and an addictive quality that is generally associated with a Harris Jayaraj number. The 'Come Along' rap at the end of Rendai Thirige and the two interludes in Rani Nanni are superb. The songs don't have any staleness despite having a heard before feel.
Neeve Nevelea is  good on arrangements but lacks on the repeat value and hum-able quality. The song would take time to grow or may be post release the song might be likable but as a standalone song in the album its skippable.
Evero Nenevaro is slow and boring number that is strictly for the narrative purpose. And finally Kommalani follows the same pattern of Neeve Nevelea, has good arrangements but unlike that number the arrangements and the rhythms here are slightly addictive . This number too would or might be a good onscreen number and depends on the picturization to lift it to a new high.
So, overall the album is on par or slightly better than the previous album in the trio's combination. But the album for sure is lot better than the last album in the combination of Surya and Harris Jayaraj which barring a song or two had the 'meh' quality. Since it's a dubbed movie lyrics aren't taken into consideration as they are poor in any case barring few exceptional cases.
Picks of the album: Rendai Thirigae, Rani Nanni, Kommalani
Rating: 3/5

Rating: 0.0/
5
(0 votes cast)