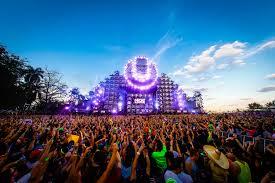 For decades, music lovers around the world have been traveling to their favorite music festivals. Today, they're have an integral part of summer, bringing together people of all ages for anywhere from two days to two weeks in the name of music. Whether you attended Coachella in California or are planning a trip to TomorrowWorld in Belgium, it's important to keep your health and safety in mind as you set up camp (literally) with your friends and thousands of other people.
To ensure you have the best time of your life at your favorite music festival(s), here are some tips to help you stay healthy:
Pack well. Be sure to pack weather-appropriate clothing, sunscreen, sunglasses, and personal hygiene items, such as a toothbrush, toothpaste, and hand sanitizer. You might also want to bring along toilet paper, which is known to run out pretty quickly at festivals. Additionally, don't forget to bring a backpack, as you won't always have time to stop by your campsite between performances if you need anything.
Stay hydrated. The most important thing you can possibly do to stay healthy is to drink tons and tons of water. Many of these festivals are outdoors in the sweltering heat, and it's extremely common for attendees to get dehydrated when out in the sun all day. Check on the festival's website to see if you're allowed to bring reusable water bottles that you can refill at water fountains.
Bring a mini first aid kit. You never know when you might fall and scrape your knee or eat something that doesn't settle well. Be sure to pack a healthy travel kit filled with ibuprofen, Band Aids, medicine to help with upset stomachs, and anything else you might need.
Pack snacks. Festival food quality will vary depending on where you go, so consider bringing along some pre-packaged items, such as granola bars and trail mix, to keep you going during your daylong rages. If staying at a campsite for a short period of time, bring along a mini grill and a cooler of goodies.
Have a backup plan. Many music festivals take place in open fields or the middle of the forest, which means there's a good chance you won't have great cell phone service. At the start of the day, come up with a general plan of what bands you and your friends will be seeing and identify a common meeting spot in case you get separated.
Use the buddy system: In a crowd of a thousand or more people, it's easy to get separated from your group. Always stay with one other person, wherever you go, at all times. It's easy to let your guard down during music festivals, but don't let that prevent you from staying safe.
Be smart. While everyone at a festival is your "friend," don't go off with strangers alone. Additionally, while many festivals have policies regarding drugs and alcohol, these items are often brought to festivals and used regularly. If you're of the legal age to drink alcohol, do so with discretion. And while we certainly don't condone the use of illegal substances, be sure to always to use your judgment.
Photo from V.I.Peeps.