If you know anyone who has battled cancer, is suffering through it, or has--sadly--passed away from the disease, then you will love this post.
The Tour de Cure started in 2007 in Australia, and has grown into a national charity and cycling tour. The goal: Cure cancer. Each year, the organization selects cancer projects, and directs all funds to those initiatives. Participants pledge to bike the route as part of a team, raising money for their efforts and the overall goal of beating cancer.
My Aunt Kathy is riding in the 2012 Signature Tour, which is currently in its 7th day. It kicked off on May 3 and will last 11 days, as riders make their way from Brisbane to Mission Beach, 1,656 km (1,029 miles).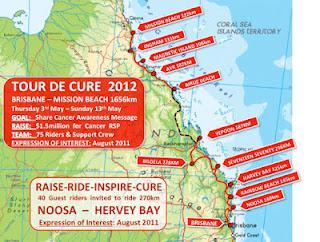 I have received a couple updates from my aunt, since they log their acitivities every few days. She seems to be doing very well, admitting that it has been grueling at times, but definitely rewarding.
Some days are longer than others, with respect to both distance and mental/physical strain. The third day was shorter, 135 km, but there were 45 guest riders, which meant more stops than usual. Day four Harvey Bay to Seventeen Seventy--265 km--was the longest day so far, according to Kathy. She woke up at 3:30 in the morning and they were on the road by 4:20. It took them over 11 hours to reach their final destination, but my aunt's pace was a personal best, which certainly deserves acknowledgement.
Day five and six sounded epic, and I give my aunt so much credit for what she is doing, it is simply incredible. In the course of three days, the group covered 700 km, an unprecedented feat for the tour riders, and one that will probably not be repeated in future routes. Not only that, but the teams have reached out to over 5,000 school children to spread the foundation's message, and they have raised 1.7 million Aussie dollars for the cause. Not too shabby.
While the biking aspect is a serious deterant for me, personally, I will say that I am very jealous that my aunt and the other riders get to experience so many different areas of the continent. The scenery, she said, is breathtaking, and she rides through so many different kinds of terrain. On top of that, they stay in different towns and villages each night, meeting with locals and learning about the regions. What a way to travel.
Here are a few pictures from the Signature Tour Blog: