There are lots of ways to teach children about diversity... and not just during Black History Month. Certainly it's important to introduce your kids to African-American culture through leaders like Frederick Douglass, Harriet Tubman and Dr. King. But I've found some of the most effective lessons are those integrated into everyday life.
As a family of gay fathers and an adopted son, it was vital to ensure our child felt visible, included and loved. Beyond surrounding ourselves with other queer and adoptive families, we also made racial diversity a priority. This has informed all aspects of our lives - from where we chose to live, to the friends we made, to the school our son attends. It also factors into the books, TV shows and movies we expose our son to. And of course it includes superheroes.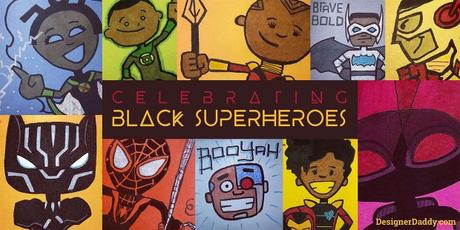 For those new to the blog, I've been creating superhero lunch notes for my son since pre-school. They've been a great way not only to send him a bit of encouragement (or remind him to flush), but also a fun tool to introduce him to a wide array of heroes. And since this is Black History Month, I thought I'd highlight some of the awesome black characters I've doodled for my kid over the years.
I've listed family-friendly sources under each note so you and your kids can learn/watch/read more about these heroes. Feel free to copy or print the notes for your family's lunches - be sure to send me a photo if you make your own!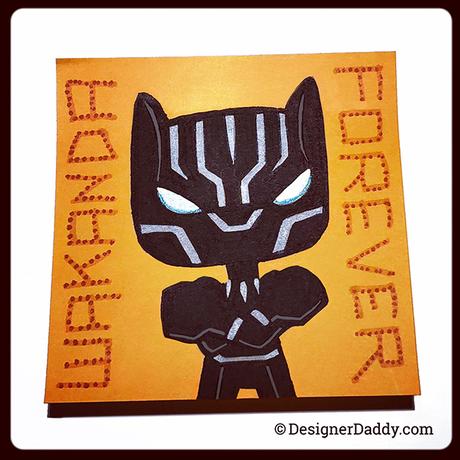 This is the black superhero everyone now knows, thanks to the record-breaking, history-making Black Panther film. WAKANDA FOREVER! GOOD LUCK AT THE OSCARS!
FUN FACT: Black Panther was originally conceived by artist Jack Kirby as a character named "Coal Tiger."
.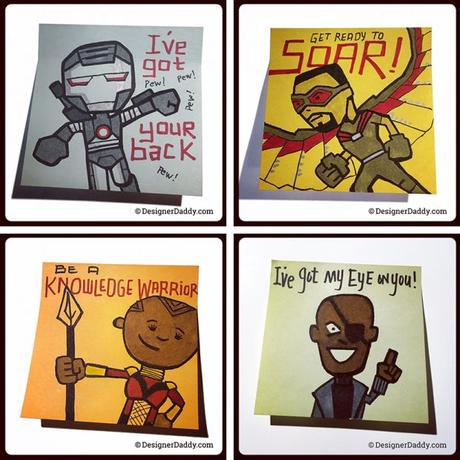 No other medium has introduced more black superheroes to a wider audience than the Marvel Cinematic Universe. War Machine, Falcon, Nick Fury and Okoye are just some of the characters featured in films like , Captain America: The Winter Soldier, The Avengers, and Black Panther.
.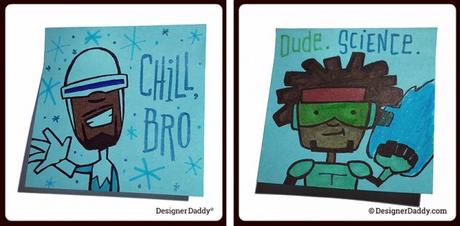 Disney, in addition to owning Marvel and producing the above mentioned films, has been upping their game with some amazing black superheroes. Frozone keeps things cool in the Incredibles franchise, while Wasabi charms as a kind-hearted scientist (with laser gloves) in the Big Hero 6 film and series.
.

The Star Wars universe has gotten progressively better about featuring non-white (and non-green) characters. Three standouts include Finn from Episodes VII-IX, Lando Calrissian from and Solo: A Star Wars Story, and Mace Windu from Episodes I-III, as well as the animated series, Star Wars: Clone Wars and The Clone Wars.
FUN FACT: In addition to heroes Mace Windu, Frozone and Nick Fury, actor Samuel L. Jackson portrayed super villain Mr. Glass in the films Unbreakable and Glass.
.
MILES MORALES (SPIDER-MAN)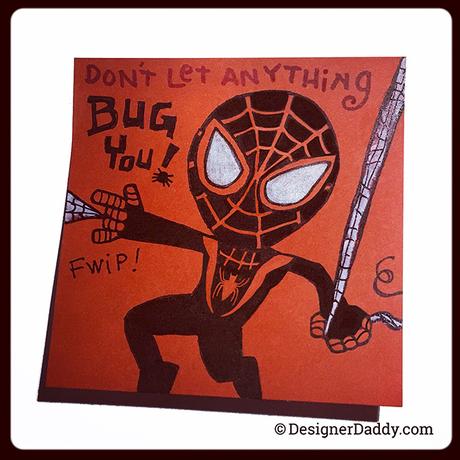 Miles Morales was introduced in an alternate universe, but quickly gained popularity rivaling that of original Spider-Man, Peter Parker. Check him out in the utterly amazing Spider-Man: Into the Spider-Verse. Also, GOOD LUCK AT THE OSCARS!
.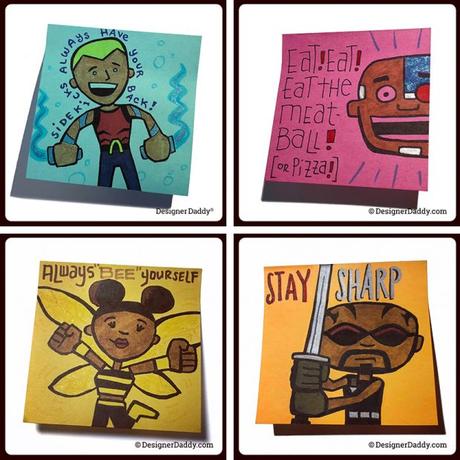 Animated series are a great place to find a slew of dynamic black heroes. Aqualad on Young Justice, Cyborg on Teen Titans GO!, Bumblebee on DC Super Hero Girls, and Blade in episodes of Ultimate Spider-Man and HULK and the Agents of S.M.A.S.H,, to name just a few.
FUN FACT: Bumblebee was the first black female superhero in a DC Comics title, appearing in Teen Titans in 1976.


Live-action TV has also become a great source for introducing black superheroes to audiences. Watch Kid Flash on , Cloak on Cloak & Dagger, and Mister Terrific on .
.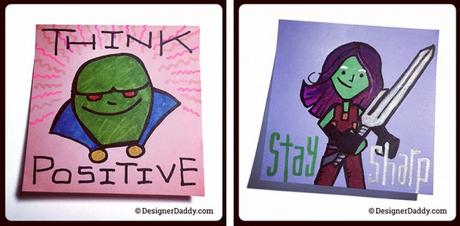 These characters are green, but are played by black actors. Visibility counts, and black actors and actresses portraying kick-ass heroes of any skin tone goes a long way to inspiring young superhero fans! Martian Manhunter shape-shifts on , while Gamora kicks all the butt in the Guardians of the Galaxy and Avengers: Infinity War.
.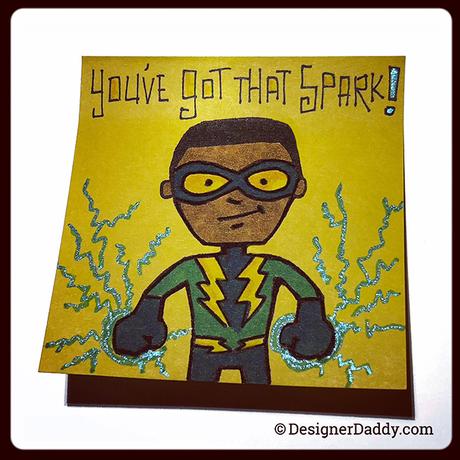 Black Lightning has the distinction of being the first black superhero to have his own solo title with DC Comics, which debuted in 1977. He and his equally superheroic daughters, Thunder and Lightning, take down the bad guys weekly on the CW's Black Lightning series.
.

One way comic book creators have added diversity is to introduce new versions of previously white characters. While often met with fan pushback, many of these characters have gone on to popularity out from the shadow of their paler predecessors. A few of these include Green Lantern (John Stewart) on Justice League Unlimited, as well as Hawkgirl (Kendra Saunders) and Firestorm (Jackson Jefferson) on Legends of Tomorrow.
FUN FACT: DC artist Neal Adams thankfully ignored suggestions to call John Stewart "Lincoln Washington," a stereotypical slave name.
.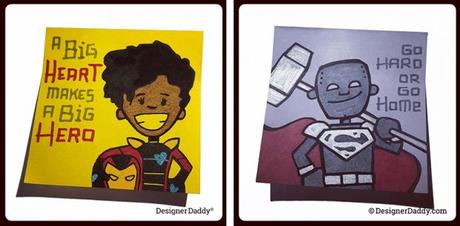 Other black characters have been introduced as partners or proteges to long-established heroes. Riri Williams used Iron Man tech to become Ironheart, while John Henry Irons stepped in for the (temporarily) deceased Superman as Steel.
.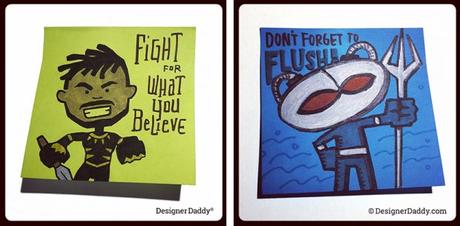 Super villains are often more interesting than their heroic counterparts, and the same applies for a few stand out black villains. Eric Killmonger brought depth and soul to Black Panther, while Black Manta proved an unstoppable nemesis in and as part of the Legion of Doom on the classic Challenge of the Superfriends.
.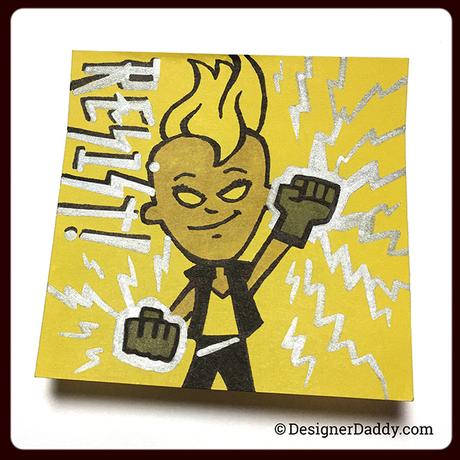 Before the MCU took over the world, Storm was the premiere black superhero, starring in four films to date.
FUN FACT: Storm was the first black woman superhero to appear in Marvel Comics, debuting in Giant Size X-Men #1 in 1975.
.

Batwing (Luke Fox) is the son of Batman's tech genius Lucius Fox, and will appear on the upcoming series; the bulletproof Luke Cage is featured in animated series The Super Hero Squad Show and Avengers: Earth's Mightiest Heroes; Vixen conjures the power of animals on Justice League Unlimited, Legends of Tomorrow, and in her own web series, .
FUN FACT: The first comic book to star a black superhero was Luke Cage: Hero for Hire in 1972.
.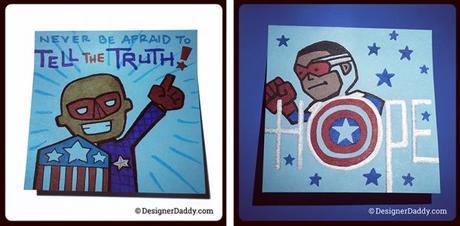 Captain America has inspired two different (red, white and blue) black heroes. Patriot first appeared in Marvel comics in 1941, with his grandson taking up the mantle more than 60 years later in the pages of Young Avengers. Sam Wilson (Falcon) took up Cap's iconic shield during the (temporary) incapacitation of Steve Rogers.
.

BONUS NOTES (doodled specifically for Black History Month): Shuri dazzles with her kick-ass tech (and sisterly zingers) in Black Panther and Avengers: Infinity War; Zack Taylor becomes the OG Black Ranger on Mighty Morphin' Power Rangers; Alex Wilder is the whip smart tactician on Marvel's.
While the list is rather exhaustive, it's by no means definitive. My main rule for lunch notes is that the character has to be someone my son knows. So while I'm constantly introducing him to new characters through comics, tv and movies there's still plenty left to discover. I hope to add others to this post as I create notes for them.
Get your daily serving of SuperLunchNotes by following me on Instagram!

comments